Mosaic Canvas Hub CANVAS Hub for Palette 2 and 3D Printer | Connect Palette 2 directly to a 3D printer | Print wirelessly from the canvas platform | Raspberry Pi Zero-Based
Product Code:
0683813773905
Product Description
EXPLORE MULTI-MATERIAL PRINTING: SOLUBLE, DURABLE, FLEXIBLE, COLORFUL
Turbocharge your printer with Palette 2. Palette 2 combines four filaments and feeds them into your printer in real time, no modifications required.
Print impossible overhangs with water-soluble support.
Make heat- and water-resistant models in four colors of durable PETG.
Create functional, end-use products by combining PLA with a flexible TPU.
Improved hardware design helps to create consistent and reliable bonds between filament.
Color touchscreen includes built-in Gradient and Pattern modes.
How does it work?
Palette 2 takes up to four filaments and combines them into a single filament strand. This strand is then fed to your printer, enabling your single-extruder printer to create multi-filament prints!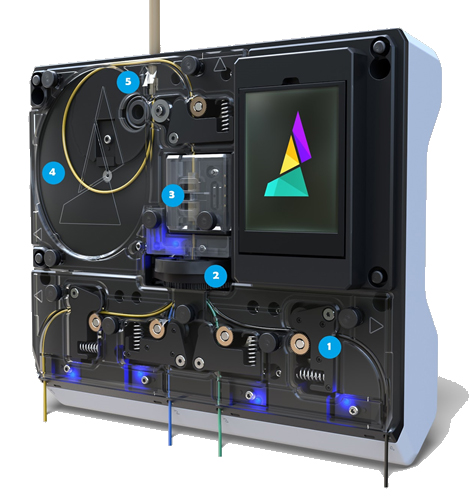 Drive: Palette 2's all-metal drive systems, inspired by those on industrial FDM machines, accurately control filament to ensure the right lengths are driven from each input.
Cut: A rotary cutter system slices filament to ensure a clean, low-resistance cut, time after time.
Connect: Palette 2's updated Splice Core connects filaments together end-to-end before passing them through a machined PTFE (Teflon) channel and splicing them together.
Cool: The newly spliced filament is passed to our buffer are to cool and ensure that it keeps tight dimensions before being passed to your printer.
Calibrate:
 There's no need to attach our Scroll Wheel to your printer anymore as it is now built inside of Palette 2, allowing for more precise calibration and a streamlined Palette experience
Calibrate:
 There's no need to attach our Scroll Wheel to your printer anymore as it is now built inside of Palette 2, allowing for more precise calibration and a streamlined Palette experience.   TECHNICAL DETAILS
CANVAS Hub
Unit Weight 0.1 kg (0.2 lbs.) Unit Dimensions 8.1 x 8.1 x 3.0 cm (3.1" x 3.1" x 1.1") Shipping Weight 1 kg (2.2 lbs.) Shipping Box 27 x 21 x 6 cm (11" x 8" x 2.5") Control Interface CANVAS via Web Browser Compatible Operating Systems Windows, Mac, Linux (Tested on Ubuntu 16.04) Data Interface USB for Printer and Palette 2, Wifi for Canvas, IEEE 802.11b/g/n 2.4GHz, Channels 1-11 Memory 8GB Internal Storage Ambient Operating Temperature 15 - 30°C (60-86°F) Control Board Raspberry Pi Zero W External Camera Compatibility Not Supported Power Requirements 5V DC, 2A Max Power Adapter Input Requirements 100 - 240V (50/60Hz) 0.4A Power Adapter Compatibility USA, UK, AU, EU