Product Code:
4260767564986
Available Options

sie können rund um die Uhr WhatsApp schreiben
Product Description
Elektrofrosch
electric cabin scooter TRIKE 25 km/h 40ah up to 80 km
In this 3-wheel electric scooter for 2 people you are protected from all weathers. This electric scooter features a real automotive glass windshield, wipers, side windows and seat belts on all seats.
Thanks to the built-in heating, you have no problems with frost on the windows in autumn and winter. The doors can be locked. Our vehicles are thoroughly tested by TÜV Rheinland and have all EU operating permits. You can immediately register the Trike model with any moped insurance company and start driving. You can drive our TRIKE model with a moped test certificate and a regular driver's license. If you were born before April 1, 1965, it is sufficient to carry an identity card.
Choose between the simple battery set with 20Ah (approx. 40km range) and the double set of batteries (up to 80km range)
Charging at any socket
The electric frog cabin scooter TRIKE can easily be charged at any socket. With a type 2 adapter, you can also use the usual charging stations. This gives you flexibility and allows you to charge your vehicle easily and inexpensively anywhere.
Additional Information
Dimensions: 1920mm x 960mm x 1560mm (L x W x H)
Max. speed: 25km/h
Range: about 40km.
Weight: 155kg
Max weight: 340kg
Max. payload; 185kg
Engine power: 2,100 watts
Battery: 40 Ah (double battery pack), 72V – 20Ah
Brake: Hydraulic front and rear brakes | handbrake, disc brakes
Tires: Rims: 2.5×10, Front: 3.00-10, Rear: 80/90-12
Security: TÜV tested: brake systems, discs (wiper system, ventilation), engine, bodywork, signals (lights, horn), passenger safety, tires and rims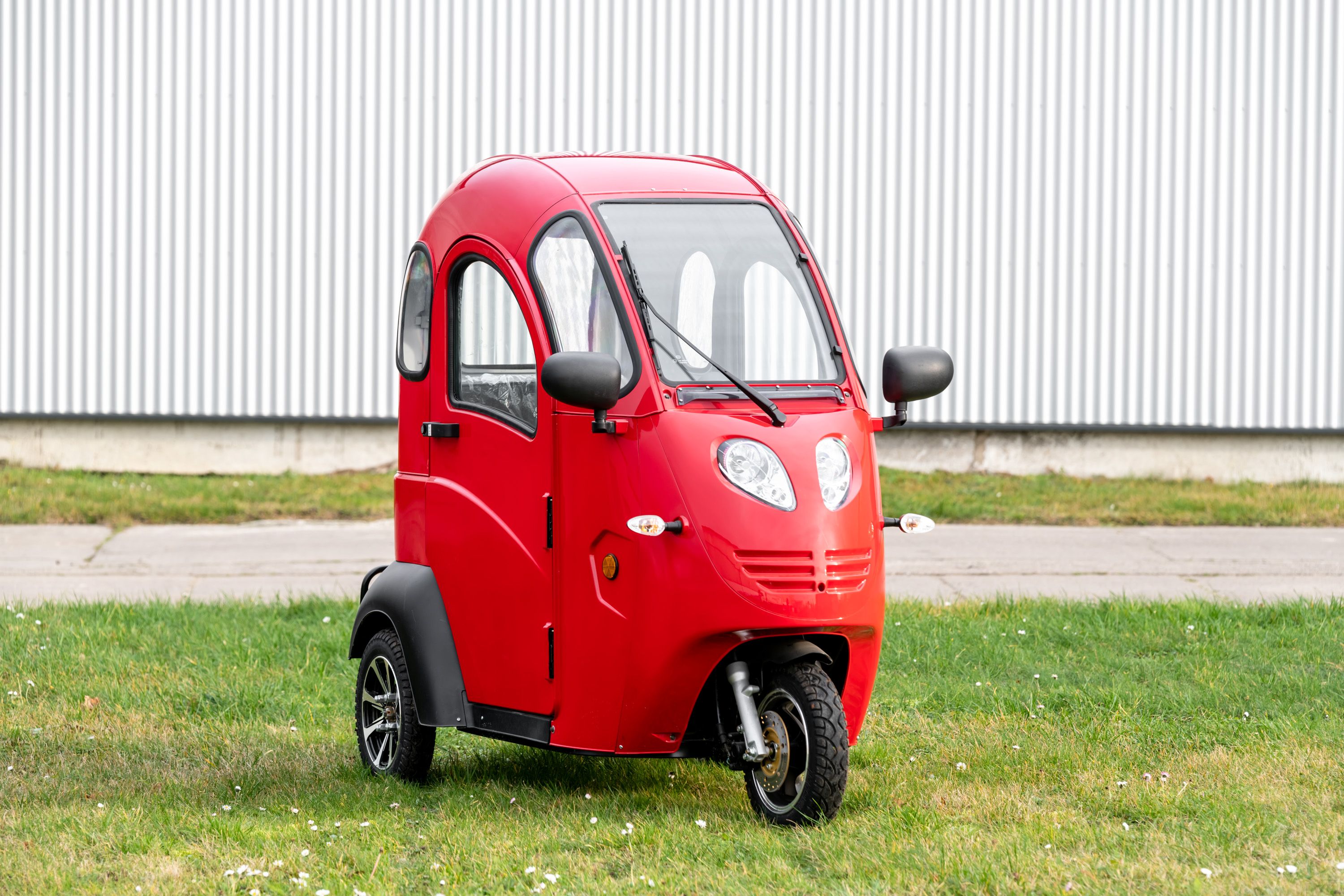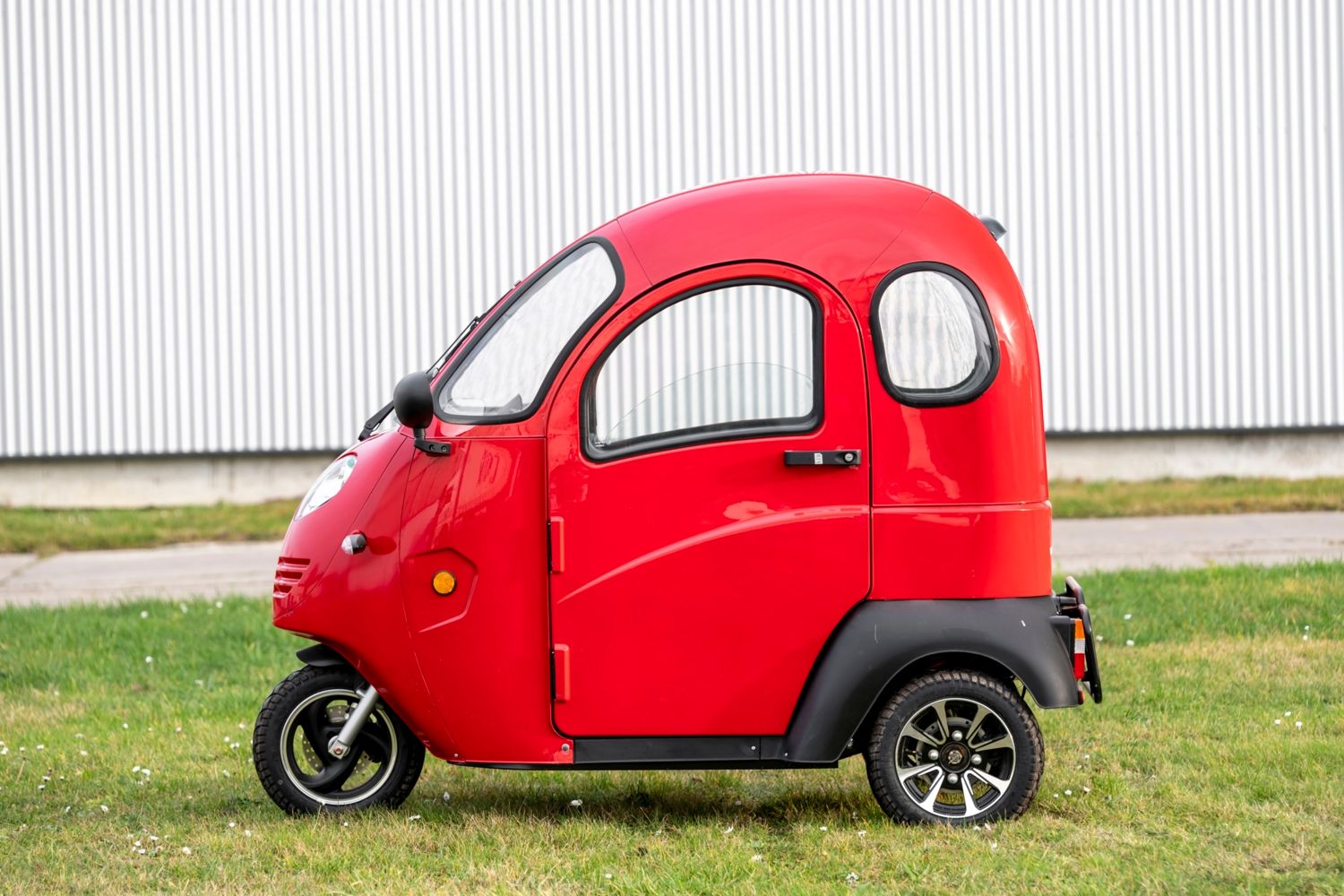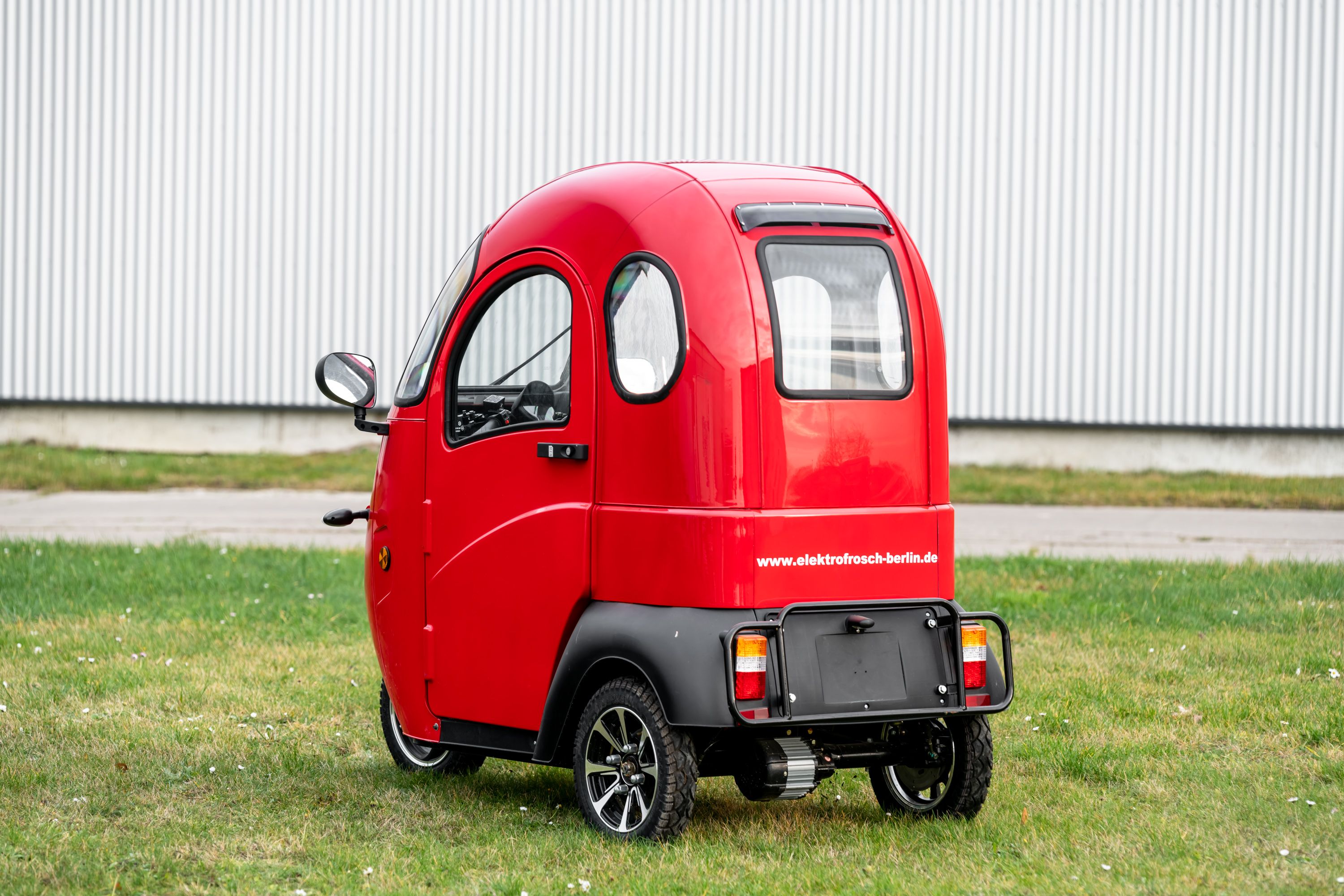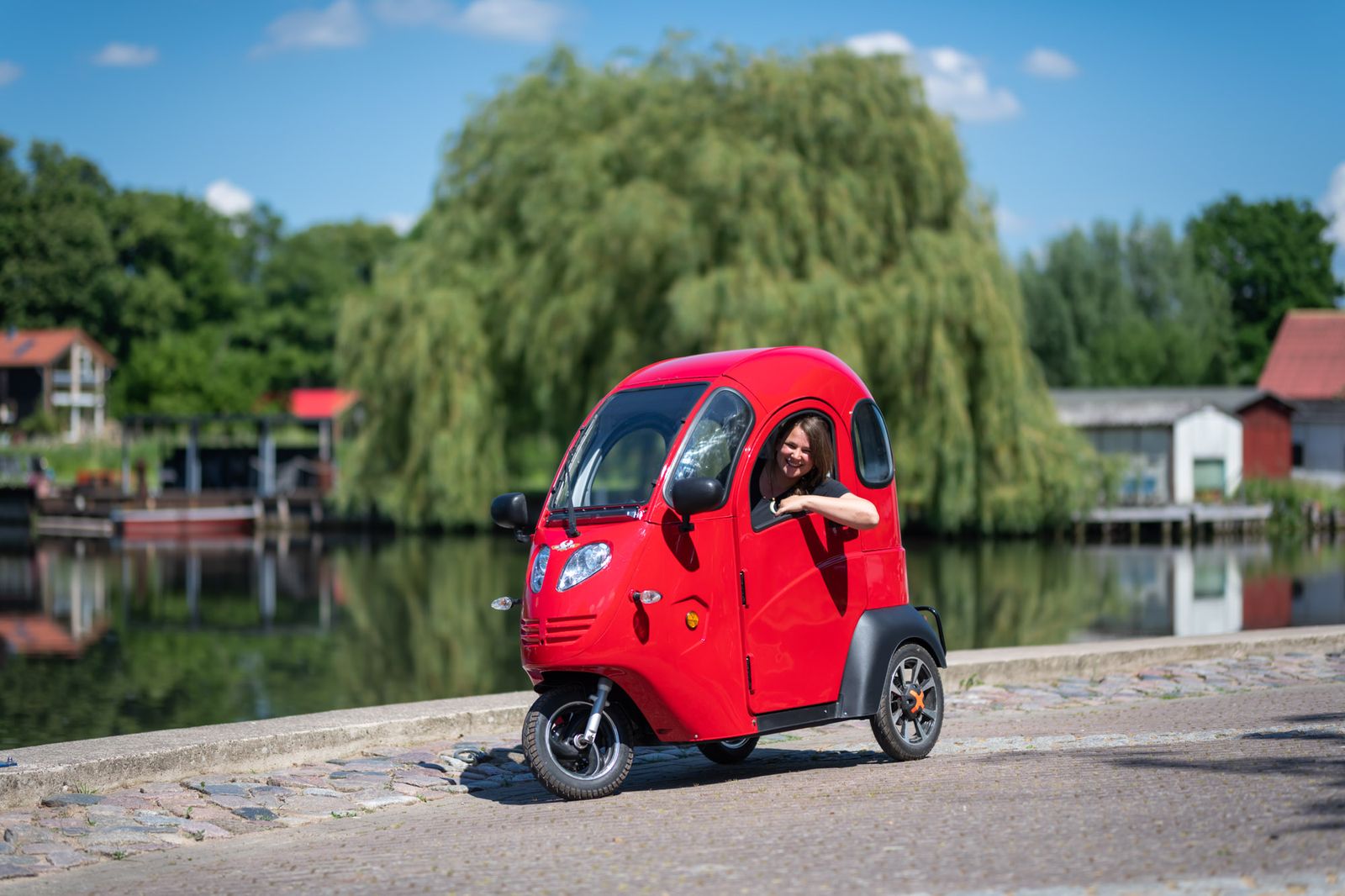 Legal
You can drive the electric trike with a normal driver's license or a moped test certificate. Before you set off, you still have to register the cabin scooter, which you can do with any moped insurance company.
Technical details
The electric trike has a slim build. In addition, the cabin scooter has a maximum speed of 25 km/h. The weight of the vehicle is also kept very low. The electric trick is controlled via a handlebar. The engine is easily replaceable due to its uncomplicated design and easy to maintain because certain components that an internal combustion engine has, such as a carburetor or clutch, are not present. The motor is inexpensive and easy to swap. Of course, hydraulic front and rear brakes and a handbrake also ensure safety when driving. All brake systems, discs, the engine, the body, lights, horn, rims, tires and passenger safety are TÜV-tested.
Electric cabin scooters bring you reliably to your destination - no matter what the season and what the weather. They are compact vehicles, easy to operate and easy to repair. Since they can be charged at any normal socket, they are the perfect solution for electromobility over short distances. In operation, electric vehicles are 100% emission-free and make no noise. Another advantage of electromobility is that electric motors are simple in construction and therefore easy to maintain.
This cabin scooter is an electric trike, which is a three-wheel model from Elektrofrosch. It is a technically uncomplicated, efficient and reliable vehicle that, thanks to its slim dimensions, guarantees maneuverability - and with enough space for a passenger or a little luggage. Like all electric scooters, the trike is designed to cover medium and short distances in an environmentally friendly way. Depending on the version, it has a windscreen made of car glass with windscreen wipers, side windows and lockable doors ensure that you are protected from environmental influences in all weathers. Seat belts are fitted on both seats.
The trike scooter has a range of around 40 km/h before it needs to be recharged. It has a weight of 155 kg and is suitable for a maximum load of 185 kg. At Elektrofrosch you can order the e-vehicle in different versions. Optionally, it is available with winter tires, underbody preservation and a reversing camera. The scooter is shown in a bright red and is also visually impressive. Our team will be happy to advise you. You can ask us any questions and learn more about our respective models on the phone or by e-mail. We would be happy to help you find the right vehicle for your purposes. Elektrofrosch has numerous locations in different federal states. There you can also take a personal look at our vehicles if required. Test drives are of course possible. Our e-vehicles can be repaired at many locations.
A reliable partner
Please note our information on performance values and an example COC:
We would like to point out once again that all vehicles sold in Germany by Elektrofrosch Berlin have a valid EU COC certificate.
Our vehicles have a high utility value and we rely on proven and reliable technology. Due to the simple structure, the most important parts can be replaced very easily and there are hardly any maintenance costs.
Item specifics
Range

40km

Speed

25km/h

Motor Power

2,100 watts

Battery Capacity

40 Ah (double battery pack), 72V – 20Ah