LONGER® LK4 3D Printer DIY Kit 220mm*220mm*250mm Print Size with 2.8-inch Full-Color Display Support Power Resume
Product Code:
683813776883
Product Description
The Longer LK4 is a budget 3D printer kit. The compact build allows for an easy assembly. Let's see what else the LK4 brings to the table.
Sturdy Aluminum Frame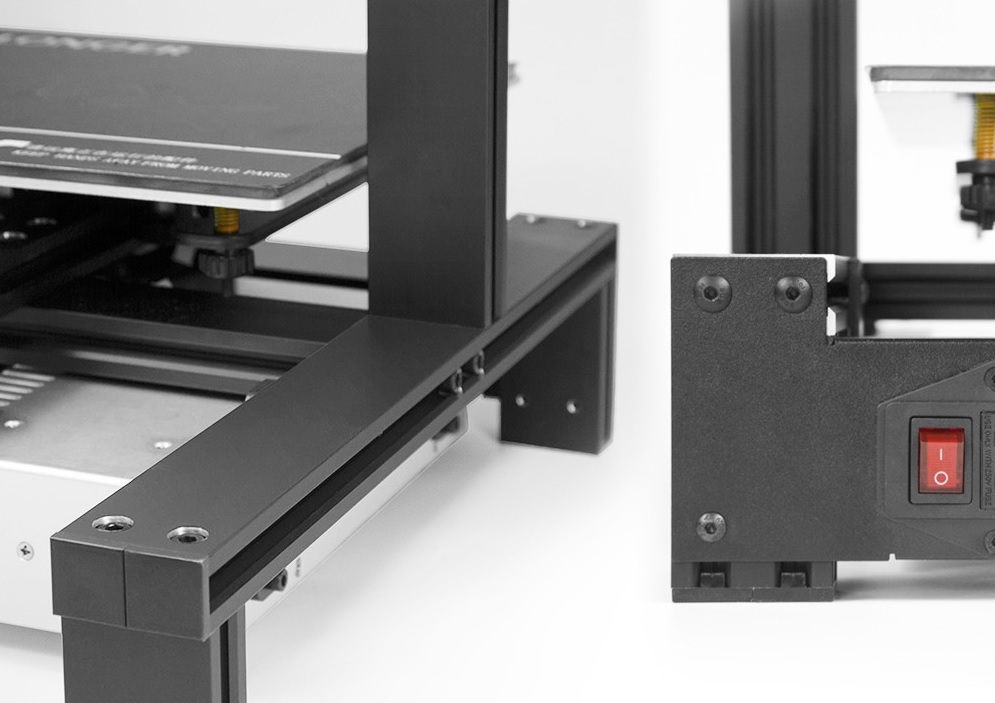 Having a sturdy frame on your 3D printer serves multiple purposes. For one thing, you don't want to rock the printer while it's printing accidentally. On the other hand, a sturdy frame reduces vibrations from the operating machine itself, therefore resulting in less Z-wobble and ensuring a smoother finish of prints. As the Longer LK4 has to be manually leveled, a sturdy frame also rids you of the struggle to constantly re-level the bed. The Longer LK4 spots a sturdy aluminum frame with firm footing, that should minimize potential Z-wobble.
Smooth Filament Feeding
The Longer LK4 is a Bowden type 3D printer. A Bowden type extruder usually leads to less Z-axis wobble due to the extruder motor being mounted on the printer's frame rather than on the print head. But with certain filaments, especially flexible ones, Bowden type 3D printers usually tend to struggle with. The Longer LK4 seems to somewhat forgo this problem by mounting the filament spool holder in the back. This should further lessen the weight on the vertical frame and also allow for smoother feeding of filament. Nevertheless, the success of flexible filament prints still depends on the shore hardness of the filament used.
Full-color touchscreen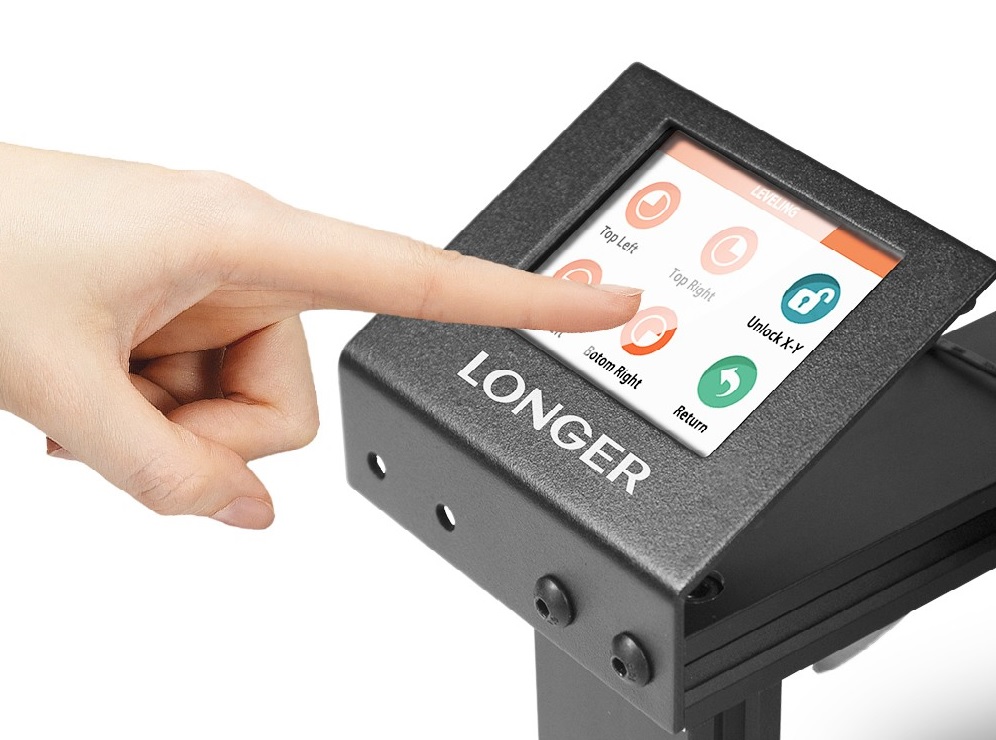 Truth be told, nowadays, touchscreens on 3D printers are not a rare sight; in the medium price segment, that is. In the budget price segment – in which the LK4 competes – it is still a feature seldom found. The Longer LK4 is equipped with a 2.8″ full-color touchscreen that can be mounted on either side of the 3D printer, allowing for maximum usability. Operating the printer, such as model preview and parameter settings, should also be facilitated.
Functional Features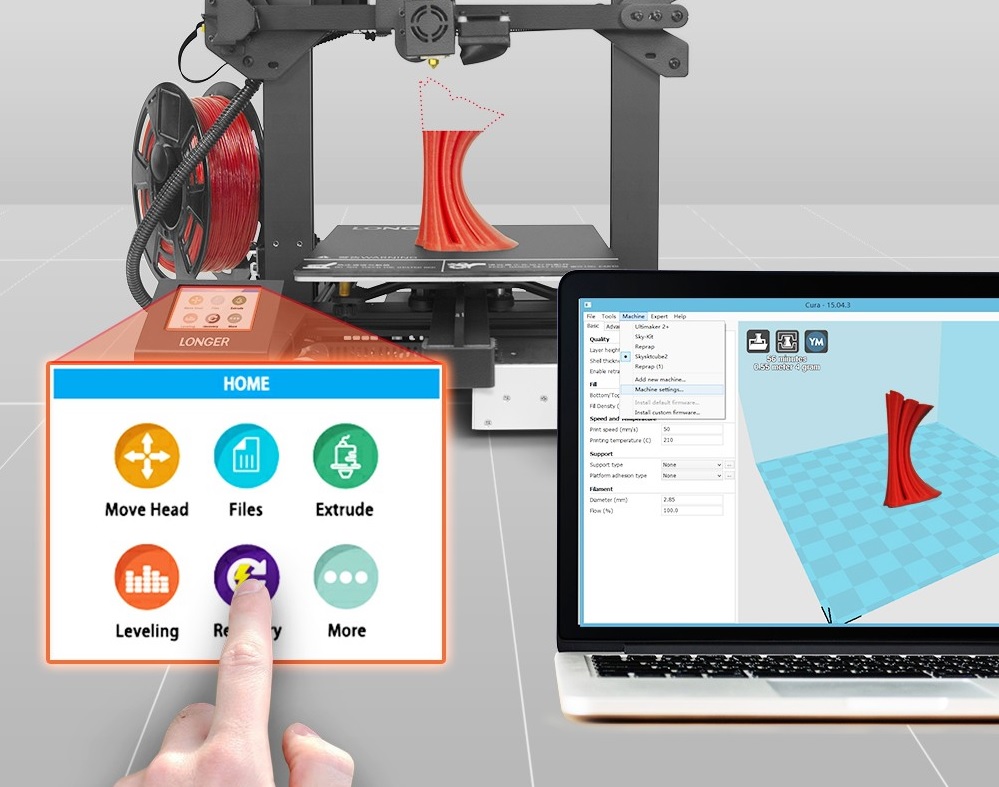 Other features quite standard in 3D printers nowadays are the resume-print function and a filament runout sensor. Both allow for long-time prints without the constant fear of a print failing mid-print, or even worse, just before finishing. For a budget 3D printer, these features are a welcomed sight, as they usually can be found in higher priced 3D printers. Equipped with both, the Longer LK4 should be up to the task of putting that print bed size to its full capacity and having worry-free long-time prints.
LONGER LK4: REVIEW THE SPECS
Tech Specs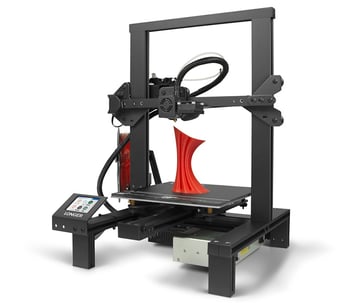 GENERAL SPECIFICATIONS
Technology: Fused deposition modeling (FDM)
Year: 2019
Assembly: Partially assembled
Mechanical arrangement: Cartesian XY-head
Manufacturer: Longer
3D PRINTER PROPERTIES
Build volume: 220 x 220 x 250 mm
Feeder system: Bowden
Print head: Single nozzle
Nozzle size: 0.4 mm
Max. hot end temperature: 250 ℃
Max. heated bed temperature: 110 °C
Print bed material: PEI covered glass
Frame: Aluminum
Bed leveling: Manual
Connectivity: SD card, USB
Print recovery: Yes
Filament sensor: No
Camera: No
MATERIALS
Filament diameter: 1.75 mm
Third-party filament: Yes
Filament materials: Consumer materials (PLA, ABS, PETG)
SOFTWARE
Recommended slicer: Cura, Repetier-Host
Operating system: Windows, Mac OSX
File types: STL, G-code
DIMENSIONS AND WEIGHT
Frame dimensions: 425 x 402 x 505 mm
Weight: 7.8 kg