Madat 1 E bike E fat bike E bicycle E folding bike 20 inch 25 km/h 15 ah battery 80-100km
Product Code:
4260767560179
Brand:
Madat

Item specifics
45 KM/H

45 km/h

500W

500W

15AH

15AH
Product Description

________________________________________________________________________________________________________________________________________________________________
BAFANG MOTOR LG BATTERY HYDRAULIC BRAKES SHIMANO GEAR
MADAT 1 E FATBIKE
VISITING THE SHOWROOM POSSIBLE!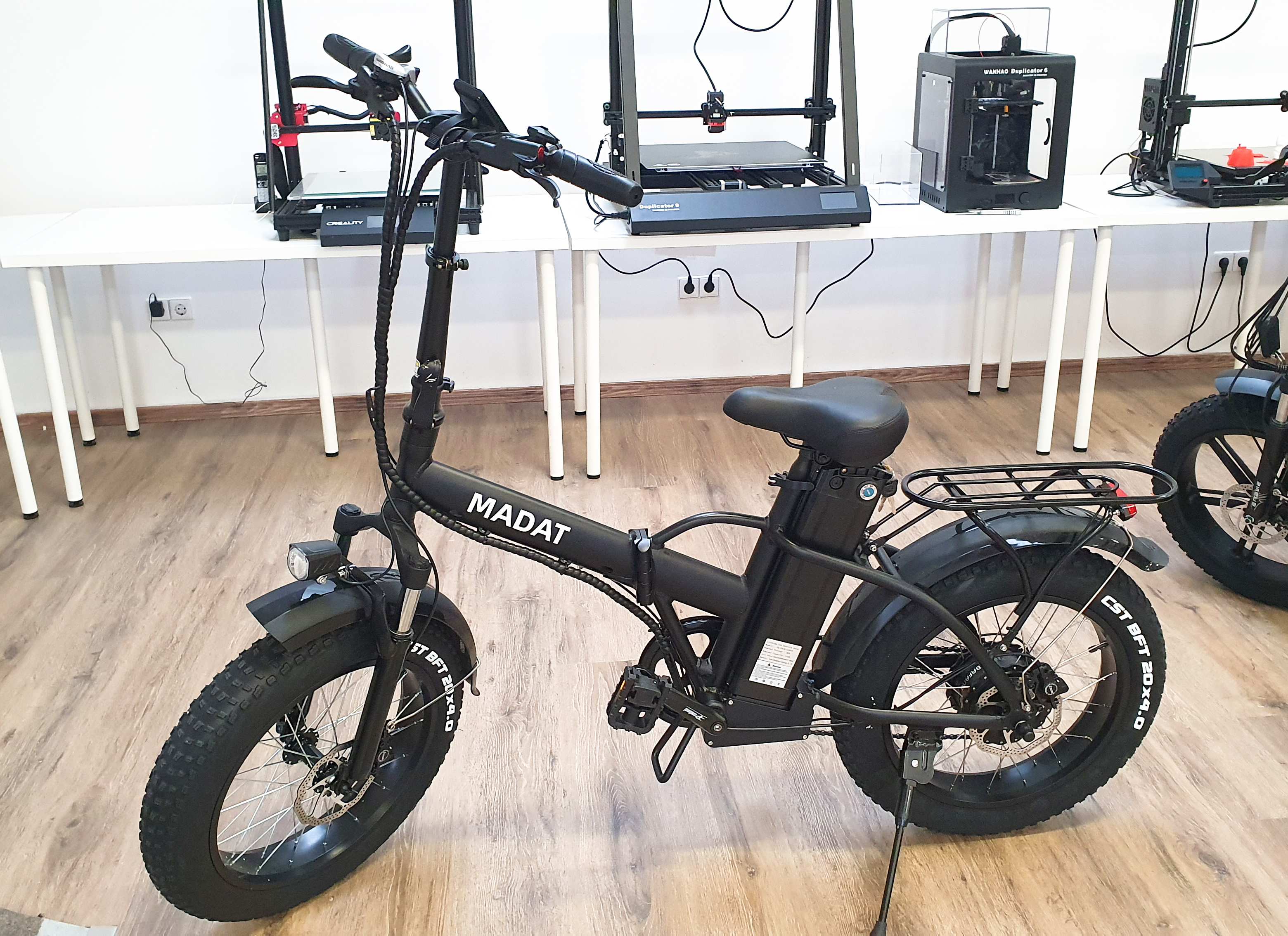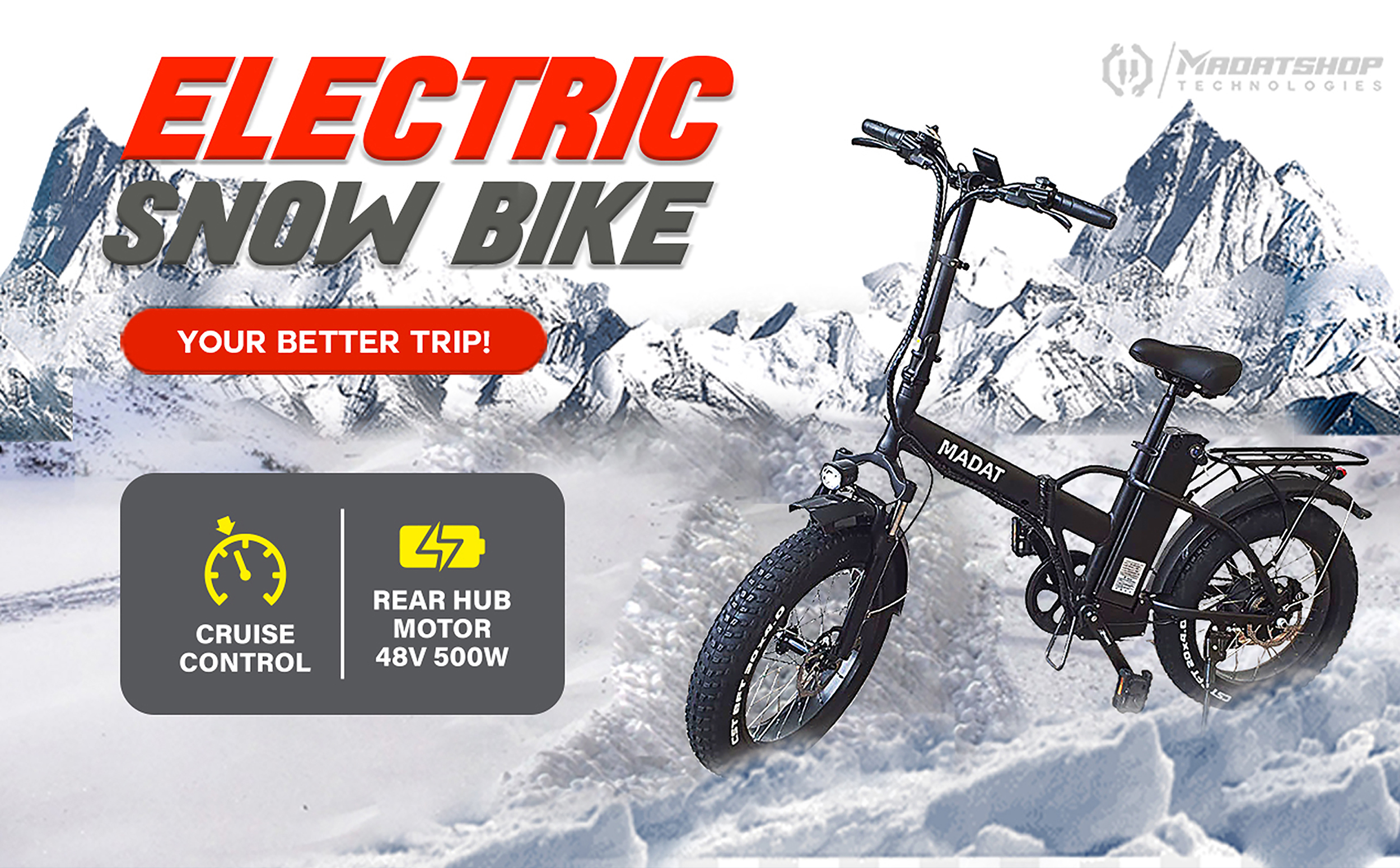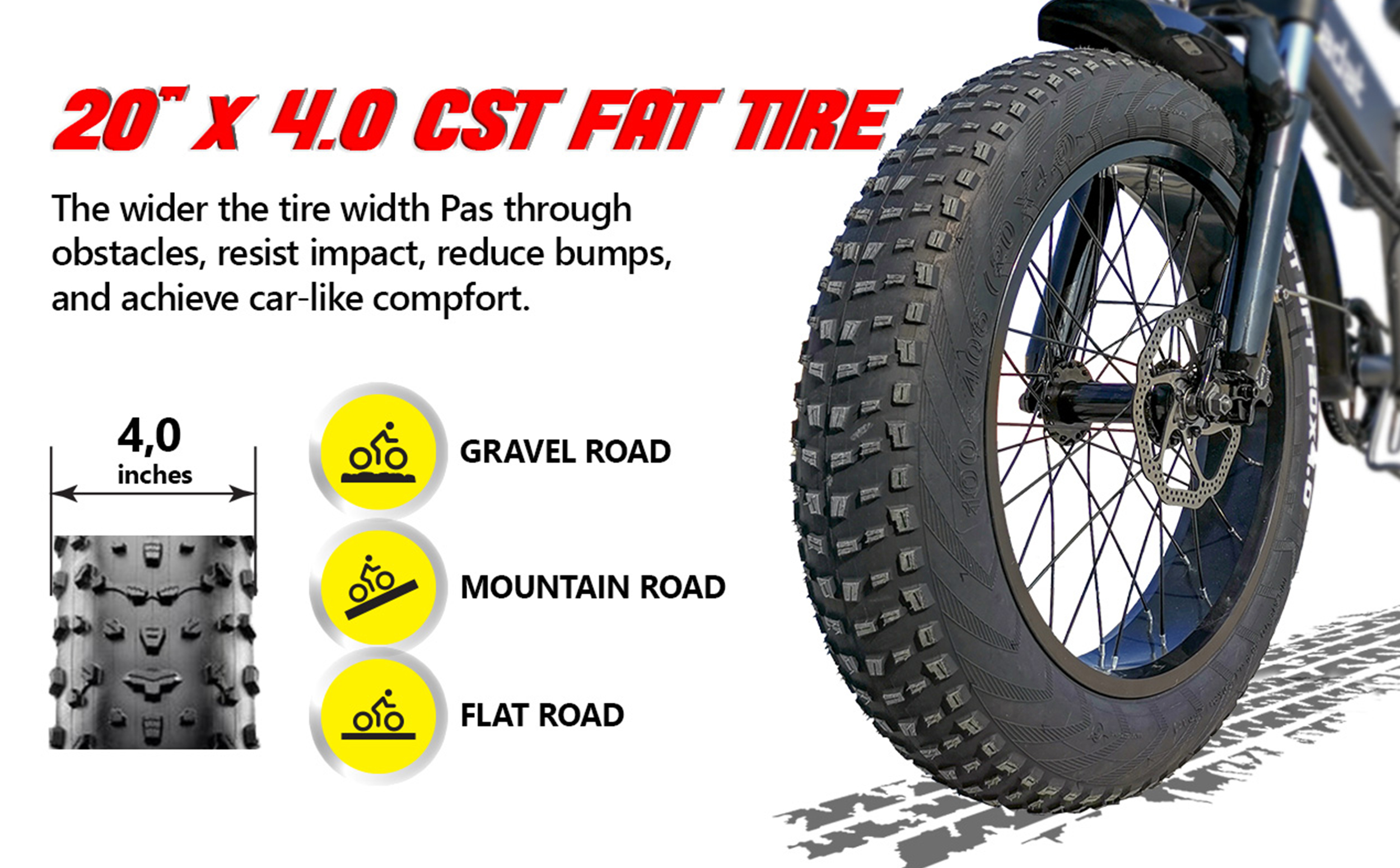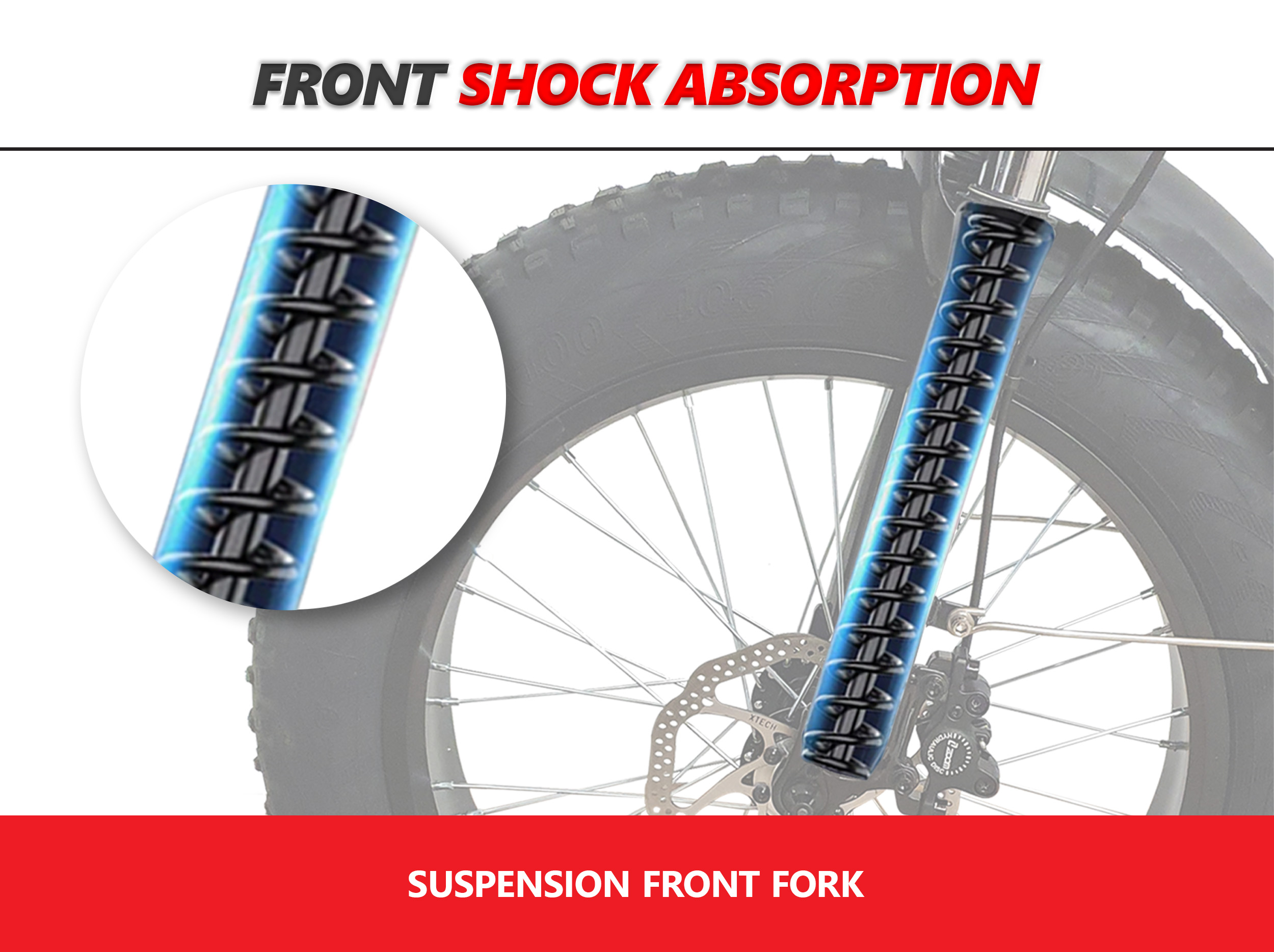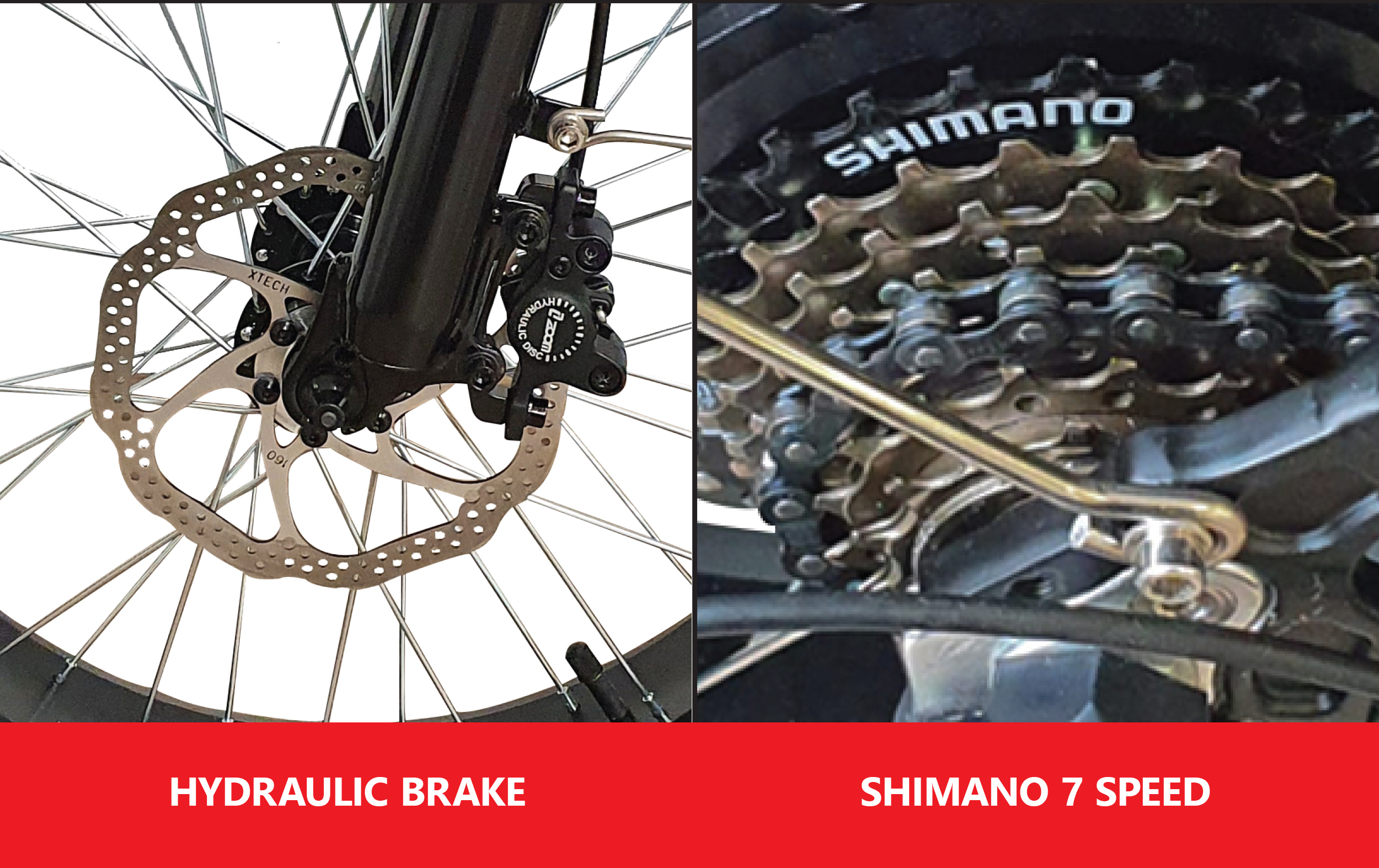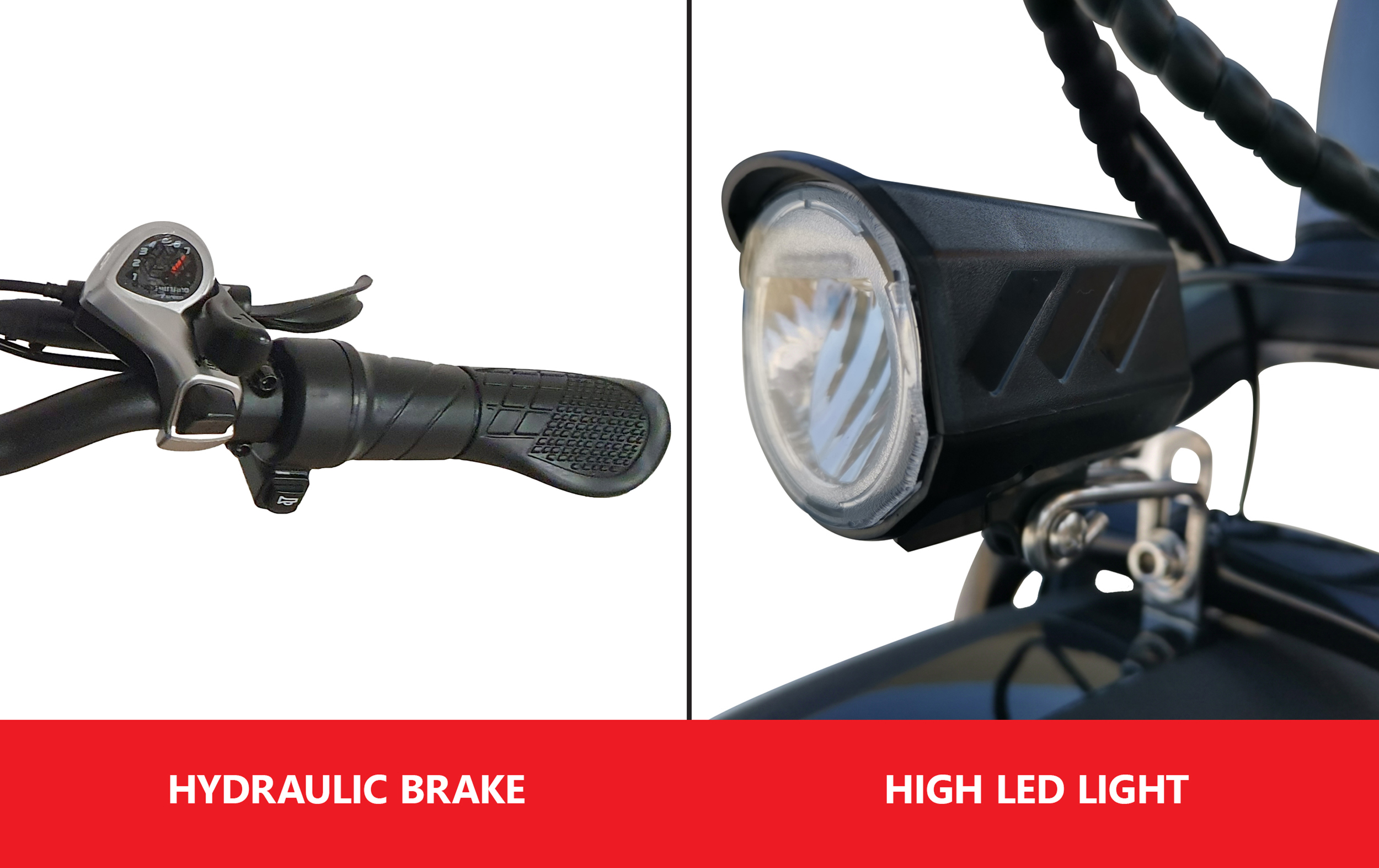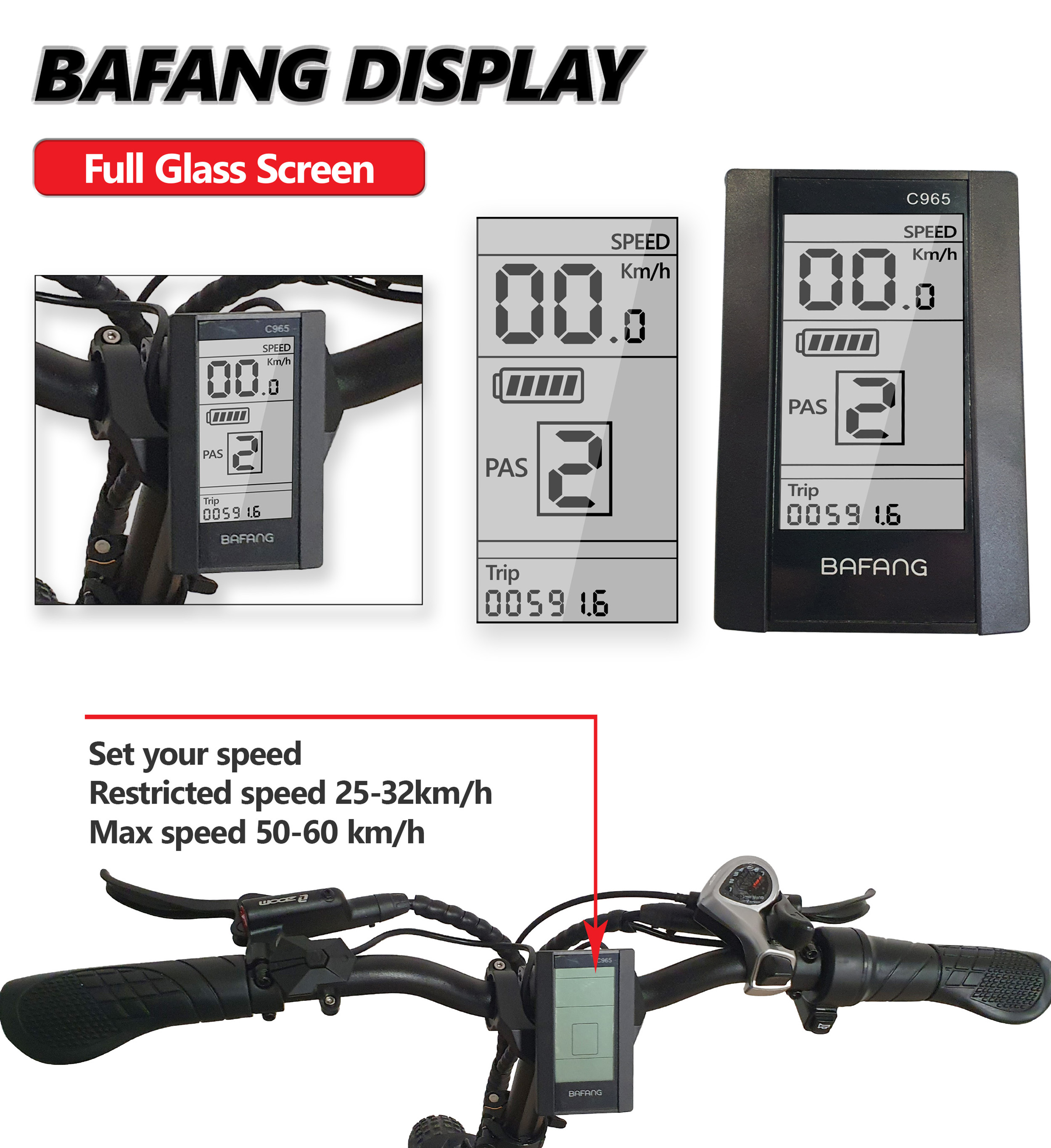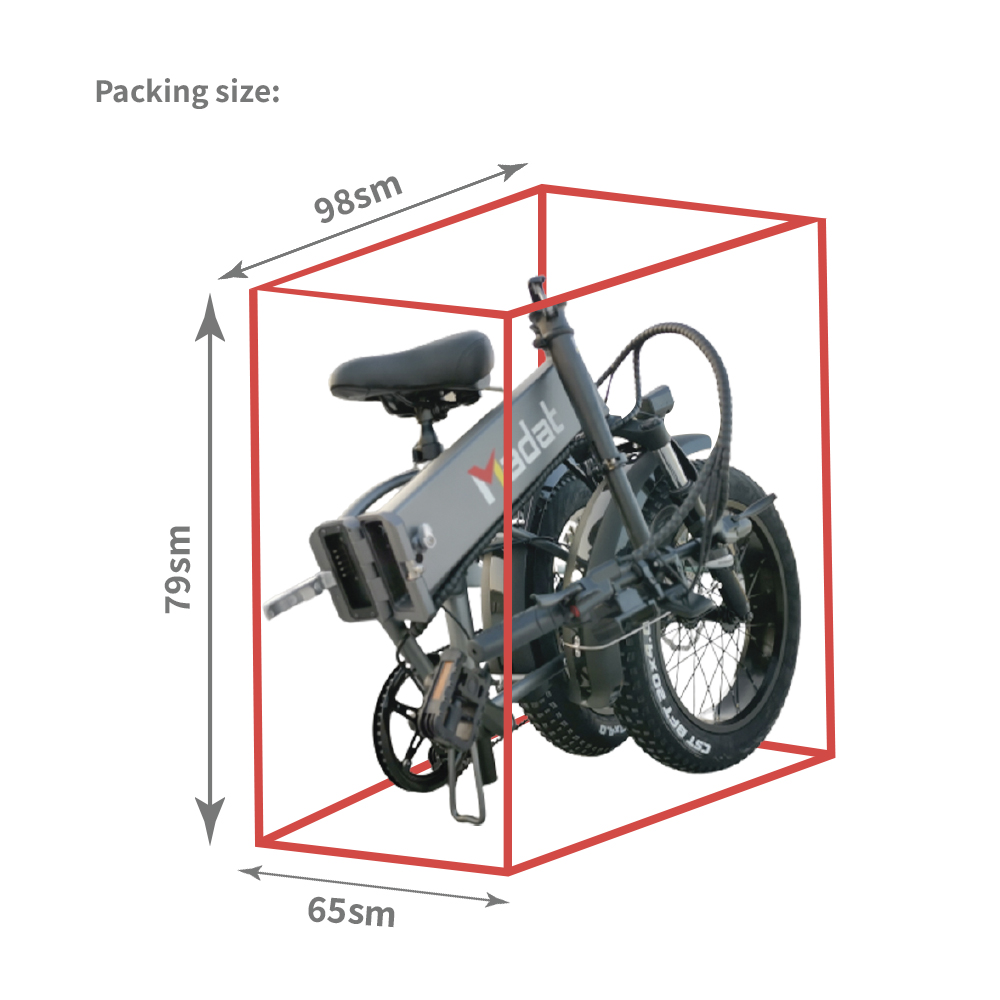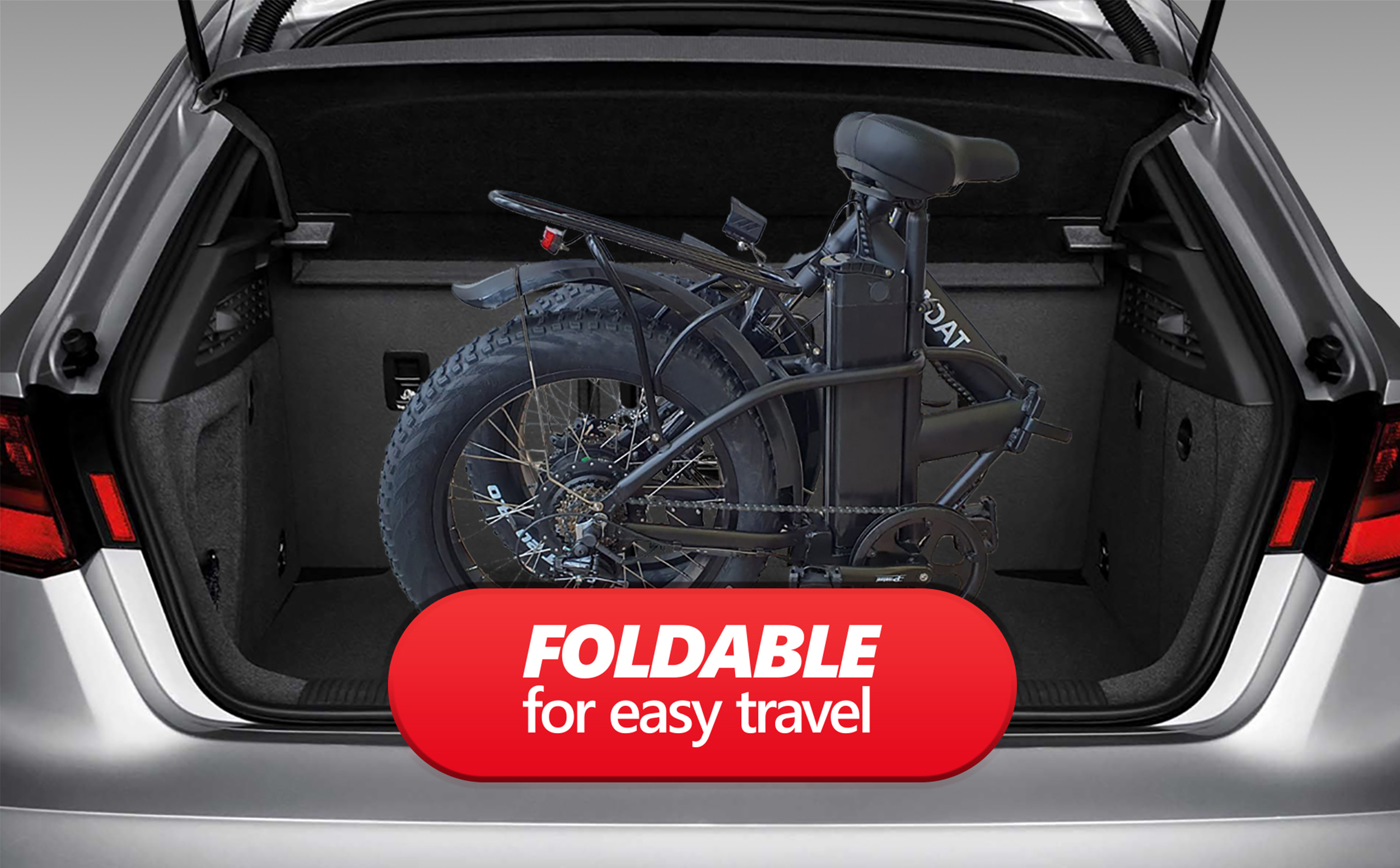 MADAT M-1
FOLDABLKE FAT TIRE ELECTRIC BIKE
The electric fat bike Madat-1 is a comfortable and stylish all-terrain electric bike. It is for men,
women, teenagers with a height of 160-190 cm. Weight of up to 125 kg intended to be used on
asphalt and field paths, paths, sand, easy terrain, mud and snow to drive with an electric drive
which can be supported by pedals.
DESCRIPTION
Wide off-road tires in combination with a front fork give this off-road vehicle a high flotation
ability. The Madat M-1 can be driven in places that are not accessible for a conventional
electric bike: on sand, snow, in terrain. Driving comfort on any surface, including asphalt,
is higher on this e-bike than on a conventional e-bike. The electric fat bike is equipped with
a Shimano 7-speed gear motor. Thanks to the Shimano 7 Speed, it has a torque
at the level of directly driven ones
Wheel motors, offers a top speed of up to 45 km / h and a ride on gentle Hanging without pedals.

In motorcycle + pedal mode you can set the maximum speed increase and ride on steep climbs.
A freewheel built into the motorcycle enables the electric drive to be switched off simply
stepping on the pedals like on a normal bicycle. For controlling an e-bike has a throttle,
an LED display and a PAS system sensor, which connects the wheel motor at the beginning of pedaling.
With the lithium-ion battery from LG, you can cover distances of up to 80 km. Travel up to 80-100 km
with pedals without pedaling. Lock attached to the frame and can be easily removed for charging or
storing the battery. Madat Bikes lithium-ion batteries work efficiently for around 5 to 6 years.
You can use lithium-ion cells at a reduced rate. Replace the price and get a practically new battery.
The Madat M-1 is an excellent e-bike for active cyclists who want an electric. Use the drive in
combination with pedals. It combines structural strength, good buoyancy, comfort and cool
design at an affordable price.
This is the best choice for European roads!
TECHNICAL SPECIFICATIONS
- Max Speed:

45 km/h (
We can restrict the speed limit of our products according to your wishes.
We can reduce the speed of your e bike 25km/h.)
- Speed Range:

85 km / h (depending on load and road conditions)
- Maximum angle of ascent of the wheel motor: approx. 13%
(depending on the load)

- Maximum payload: 125 kg

- Net weight of the electric bike: 27 kg

- Electric bike gross weight: 30 kg

- Dimensions: 1000 mm (length); 470 mm (width); 780 mm (height)

- Frame: aluminum alloy foldable

- Front fork

- Aluminum alloy rims

- Wheel diameter: 20 inches

- Tires: CST 20 "x 4.0

- Brakes front / rear: Oil brake

- Pedal drive: 7 gears

- Drivetrain with Shimano components

- LED headlights footrest
- LED display: Bafang display
- Turn on turn off
- LED battery level
- Switching the control modes: throttle / PAS system
- On / off LED headlights
- Motorcycle: nominal voltage 48V, Bafang motor, permanent
Neodymium magnets, Shimano 7-speed gearbox
- Cruise control: throttle (the motorcycle is connected and its
Speed is regulated by the throttle);
- PAS system (motorcycle is activated when pedaling)
- Rechargeable battery: LG lithium-ion, 48V 15Ah
- Battery charging time: 3 - 5 hours. (depending on the degree of discharge)
- Power consumption: approx. 1.2 - 1.8 kWh / 100 km=
Madat Bikes LG lithium-ion batteries have a typical, tried
and tested service life of 5 to 6 years.
E-bike color: black
COMPLETE SET
- Madat-1 Fat Tire Foldable Electric Bike
- Automatic charger AC 100V-240V 2 amps
WARRANTY
2 year unlimited mileage guarantee
We are convinced of the high quality of the goods on offer.
POWER SUPPLY SYSTEM
Battery:
LG lithium battery 48V 15AH
Assistance system: Speed Intelligent Assist System
Controller:

Intelligent Brushless
Charger: AC 100V - 240V 2 amps intelligent charger: 3-5 hours
Advertisement: Bafang advertisement
Top speed:

45-50 km / h
Full charge time: 48V 15 AH (battery) 80 km
Net weight: 27 kg
Rough weight: 30 kg
Maximum load: 125 kg
Package size: 100x47x78cm
Pack 100% type of folding size
CRITICAL PIECES
Frame: aluminum alloy foldable
Front fork:

suspension
Head Bowl: Half-hidden eight-part bowl
Handlebar: aluminum alloy
Stem:

aluminum alloy, foldable
Brake lever: aluminum alloy with shifting force
Brake:

F + R oil brake
Tire:

CST 20 "x 4.0
Rim: aluminum alloy
Spoke: 45 # steel 13G with copper cap
Front derailleur: Shimano 7-speed
Pedal: aluminum alloy, reflector
Chain: TW KMC chain
Sprocket: steel, 48T aluminum alloy crank
Chain cover: NIL
Axis: Sealed Axis
Mudapron: PP plastic
Saddle: saddle leather face
Seat post: aluminum alloy cushioning
Light: F + R light
IMPORTANT NOTE!
What do I need to move the bike on German roads?
-If you drive up to 25 km / h, you don't need anything. If you want to drive faster than 25 km / h, it is advisable to take out insurance.
We also have a service that we can insure for you.
If the speed does not exceed 6 km / h, you can use the throttle grip.
Is the product StvO permitted? It drives much faster than the specified 25 km / h. What do I have to do to be able to drive safely with it?
-Not required unless you go faster than 25km, if you want to go faster than 25km you need to have insurance but you cannot go on the bike path, you need to go to the driveway. You must have a driver's license and wear a helmet.
For electric bicycles and e scooters with maximum speeds of up to 25 km / h, insurance and a driver's license are not required!
You can apply for an additional operating permit for bicycles with 250W over 25km / h.

WARNING! When using an electric bike or electric scooter in the city, you can accelerate up to 25 km/h by turning the pedal.
We can restrict the speed limit of our products according to your wishes. We can reduce the speed of your e bike 25km/h.
#MADAT 1 #E FAT BIKE #E BIKE #500W BAFANG MOTOR #LG BATTERY #HYDRAULIC BRAKES #SHIMANO GEAR #ENGWE FAT BIKES
#BAFANG #FAT BIKE #BAFANG MOTOR #e bike buy #foldable e-bike #foldable bike #foldable fat e-bike #fat bike buy #500W e-bike
#500W foldable e-bike #electric bike #foldable electric bike