MADAT CITYCOCO CHOPPER COBRA S3 49E 4000W / 40 AH ELECTRIC MOPED SCOOTER DUAL MOTOR TRI-WHEEL DOUBLE BATTERY
Product Code:
4260767560049
Brand:
Madat

Product Description
Matte Black chopper - sold out

Citycoco Chopper Cobra S3 49E Specifications:
- Model: ES8009
- Motor: 4000 W
- Battery: 60 V / 40 Ah (2 batteries 60 V / 24 Ah included)
- Color of the mudguard: Black.
- Frame / chassis color: Black, Red
- Maximum speed: 45 km / h
- Autonomy on one charge: 90 km
All batteries in our Citycoco scooter can be charged on the motorcycle or removed and charged separately.

Characteristics:
- Double front shock absorber

- Provide regression

- Horn

- Alarm

- Dual rear shock absorber

- Front / rear disc brakes

- Front light (short and long) / Rear position and brake light.

- Front and rear indicators

- Dual digital display (odometer + battery / voltage level)

- 2 starting keys

- Maximum load: 180 kg

- Scooter weight: 106 kg.

- Dimensions: 221 cm long, 109 cm high and 110 cm wide.

- Charging time: 6-8 hours

Citycoco Chopper Cobra S3 49E
Guarantee:

2 years for all components and parts of the product, including the battery.


CITY COBRA S3 49E 4000W / 40 AH DUAL MOTOR DOUBLE BATTERY
The CityCoco Cobra S3 of 3 wheels is sleek, innovative and safe.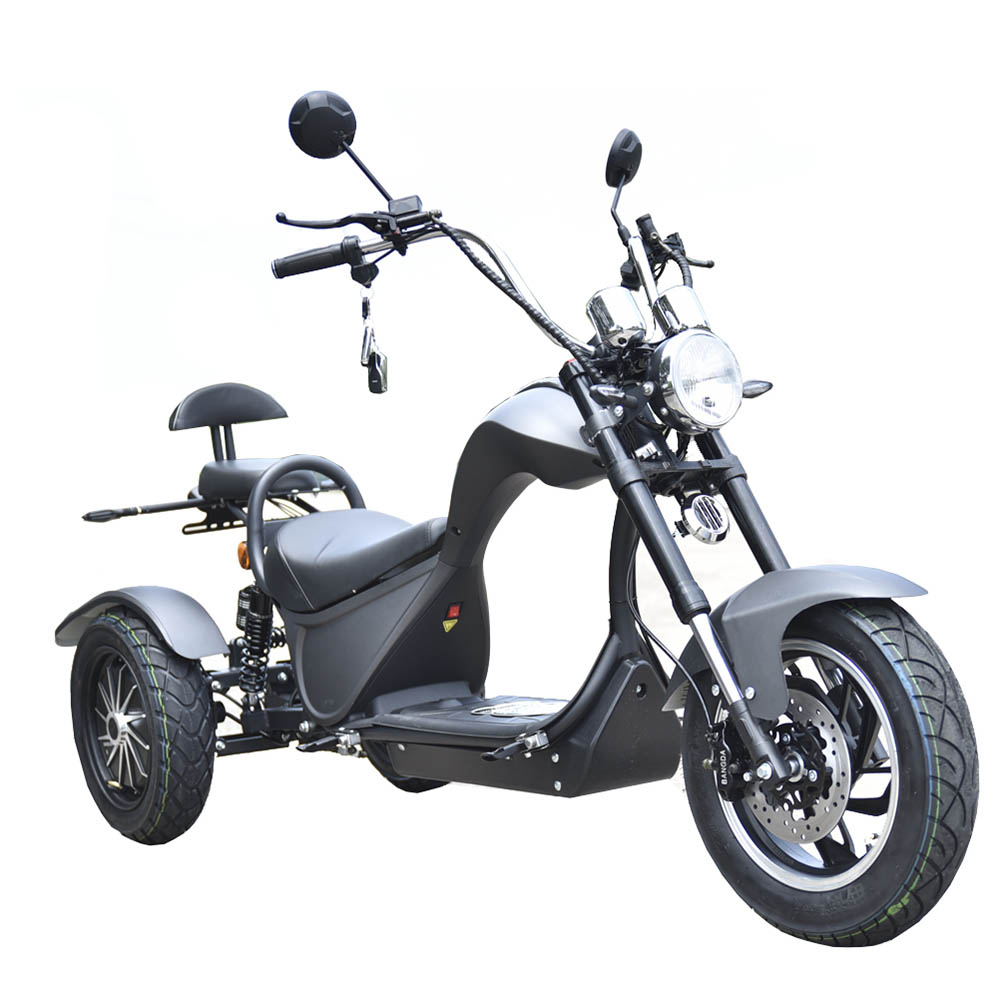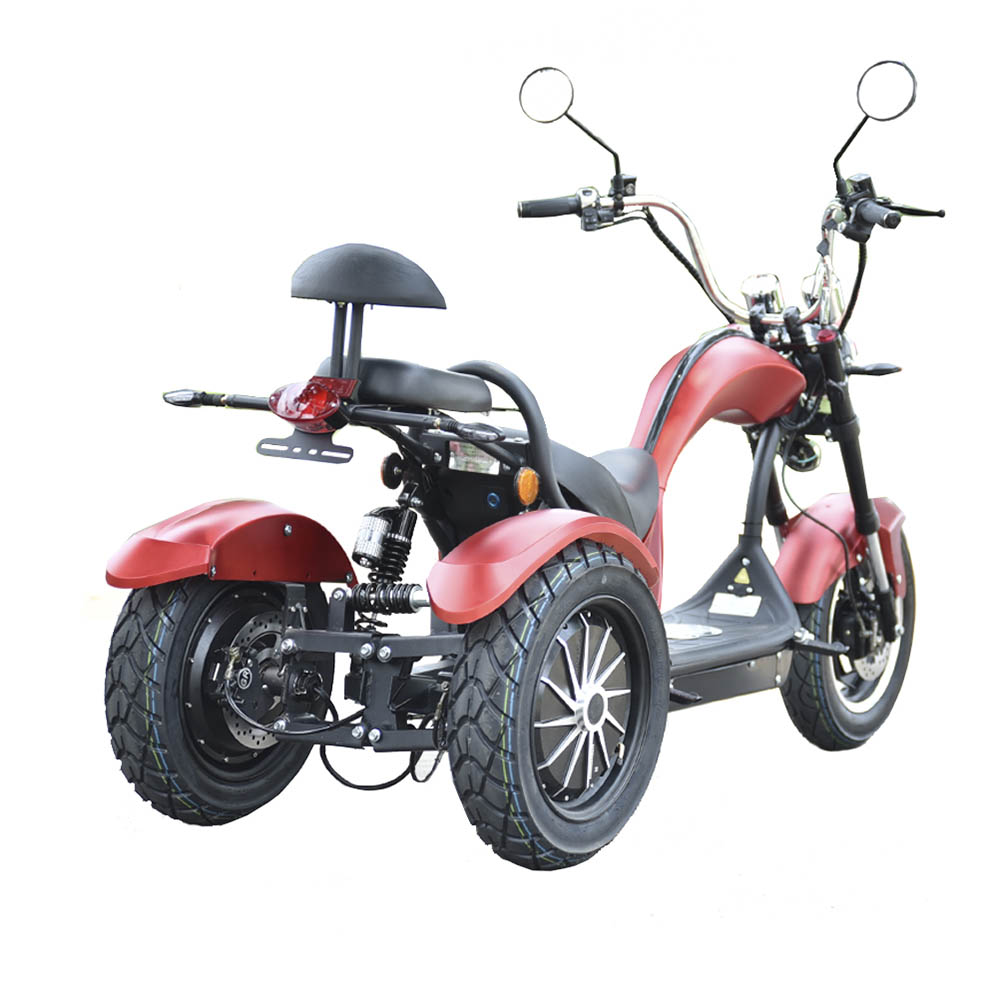 CHOPPER. Its style and characteristics make this model ideal for everyday use.
TOUR THE CITY. Made of quality components, enjoy a pleasant ride and forget about starter breakdowns, gasoline and difficult fuel car maintenance.
DOUBLE AUTONOMY. This incredible electric moped scooter includes 2 fully removable 60/20 Ah batteries for a total of 60 V / 40 Ah. Enjoy up to 90 km of mileage on a single charge and travel on the road and in the city as much as you need.
MAXIMUM POWER. This model is equipped with two 2000W motors on each rear wheel (4000W total), which is more than enough to travel on any terrain at speeds up to 45 km / h. In addition, it climbs up to 25º slopes, withstanding loads of up to 180 kg.
INNOVATION AND SAFETY. In addition to the ease of operation, you will be completely safe while driving as it includes a headlight, horn, front and rear disc brakes, dual front rear shock absorbers and a rear swingarm between both wheels. Its 3 large wheels provide impressive driving stability with reduced risk of falls.
One of the great new features in its design is the double marker. You will never lose your speedometer meter, total mileage and battery level.
TAKE WHATEVER YOU NEED. This moped also includes a rear basket so you can carry whatever you want on your daily commute and get the most out of it.


Discover the benefits of the 2 motors integrated in the rear wheels of our Cobra S3:
- Maximum savings in consumption. You can travel 100 km for less than € 1 for electricity.
- Much simpler and easier maintenance. Forget about filters, oils and / or gaskets.
- No unpleasant smell, no oil stains, no refueling at the gas station.
- No annoying noise.
This moped consists of two electric motors on the rear wheels, two lithium batteries and a controller. These are the key elements that will make this car work. Forget about startup crashes and all the complications of the moped with burning.
You can drive on it from 15 years old and older and no age limit! The product is made using 3D design technology. It is a unique modern product with a minimalist structure.
Also has the following certificates: CE. ROHS, UL, offers you high quality and safety when purchasing this product.
TRY AND ENJOY A NEW WAY TO MOVE IN THE CITY! 100% ENVIRONMENTAL RESPONSIBILITY. 0% POLLUTION !!
This model, homologated as a moped, includes front and rear direction indicators, low and high beam, brake light, side light, license plate light, horn, rearview mirrors. Unlike other non-registration models, this model also includes some important changes required by European regulations in order to classify it as a moped, for example:
- 60 V and 40 Ah lithium battery with high autonomy.
- Approved lighting system. Short and long light, indicators, side light, license plate light.
- Approved odometer.
- Rear view mirrors.
- The frame number is engraved on the chassis.
- Switch on the side support ("stand")
- Steering wheel lock with key.
- Front and rear disc brakes.
- Alarm.
- The maximum speed for an approved moped is 45 km / h.


The battery under the seat must be connected with 2 power cables to avoid possible overheating.
#electric scooter #scooter #electric moped scooter #electric moped bike #electric bike #electric moped uk #electric motorcycle #best electric moped #electric moped for adults # electric scooters #moped for sale #vespa #razor electric moped #electric moped in india #electric moped for kids #electric moped reviews #electric scooter adult
#citycoco scooter #harley citycoco #city coco #citycoco electric scooter #citycoco 2000w #citycoco 3000w #citycoco trike #citycoco icoolwheel #scooter electrique #citycoco matriculable
#electric scooter price #electric bike scooter #bike #electric bike #best electric scooter #electric scooter india #xiaomi #electric scooter in india #electric scooters #razor scooter #xiaomi scooter #electric scooter xiaomi #electric razor #scooters #razor #razor electric scooter #hero electric scooter #mi electric scooter #electric scooter pro #hero electric #electric scooter adults #electric kids scooter #electric scooter uk #kids scooter #electric scooter for adults