Madat CITYCOCO FURIOUS 49E 4000W / 40AH ELECTRIC SCOOTER
2,466.87 €
2,585.87 €
-5%
Product Code:
7438644887504
Product Description
Another big advantage is the powerful engine, which has never been found in any Citycoco model before. Brushless and with 4000W output, it offers you enough power for climbing slopes up to 25 °. You will immediately notice that this is a unique Citycoco.
Our Furious is the perfect vehicle for your daily commute, including roads and sections dedicated to cars. Besides being durable, one of the great advantages of a brushless motor is its low wear:
- Maximum savings in consumption. You can travel 100 km for less than € 1 on electricity.
- Much easier and simpler maintenance. Forget about filters, oils and / or seals.
- No unpleasant smell, no oil stains, no refills at gas stations.
- No annoying noise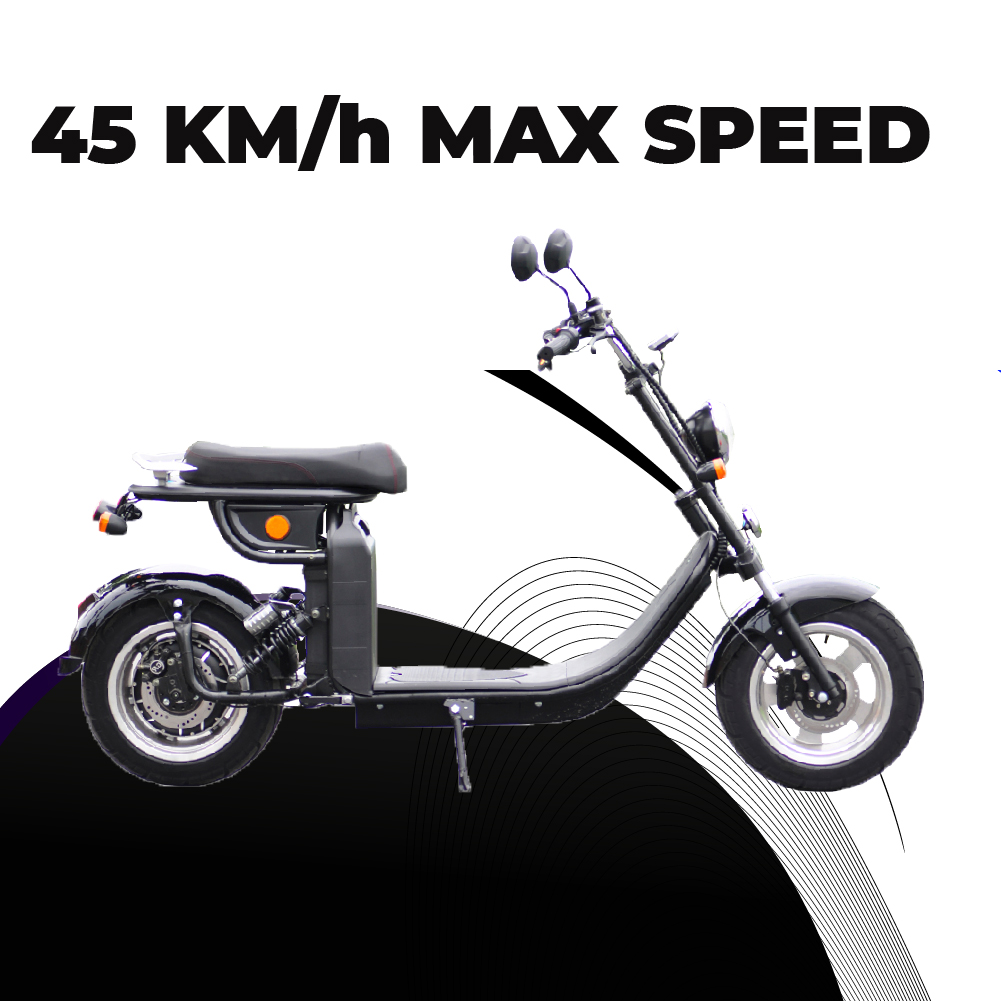 Citycoco Furious requires very little maintenance compared to a petrol car; no gasoline, no filters, no complicated repairs and maintenance, just plug it into your home or work.
It consists of an electric motor in the wheel, a lithium battery and a controller. These are three key elements that make this car work. Forget about startup errors that you will hardly or never will have.
This version, approved as a moped, has a power output of 4000 watts. Power and performance are more than enough for loads up to 180 kg and slopes up to 25 °. Plus, with a 40 Ah battery, you can travel up to 80 km on each charge.
The battery is made of lithium for fast charging, the charging time is 6 to 8 hours.
The maximum speed with the activated limiter is up to 45 km / h, which is the maximum speed allowed for a moped in Spain. When switched off, this limiter can reach speeds of up to 70 km / h.
The large wheels of our Furious provide impressive driving stability with reduced risk of falls. It can be operated from 15 years old and without age restrictions! The product is created using 3D design technology. It is a unique modern product with a minimalist structure.
An AM or B driver's license is required to drive this vehicle. This is available in DGT from 15 years old.
This model, homologated as a moped, includes front and rear direction indicators, low and high beam, brake light, side light, license plate light, horn, rearview mirror. Unlike other unregistered models, this model also contains some important changes that are required by European regulations in order to be classified as a moped, for example: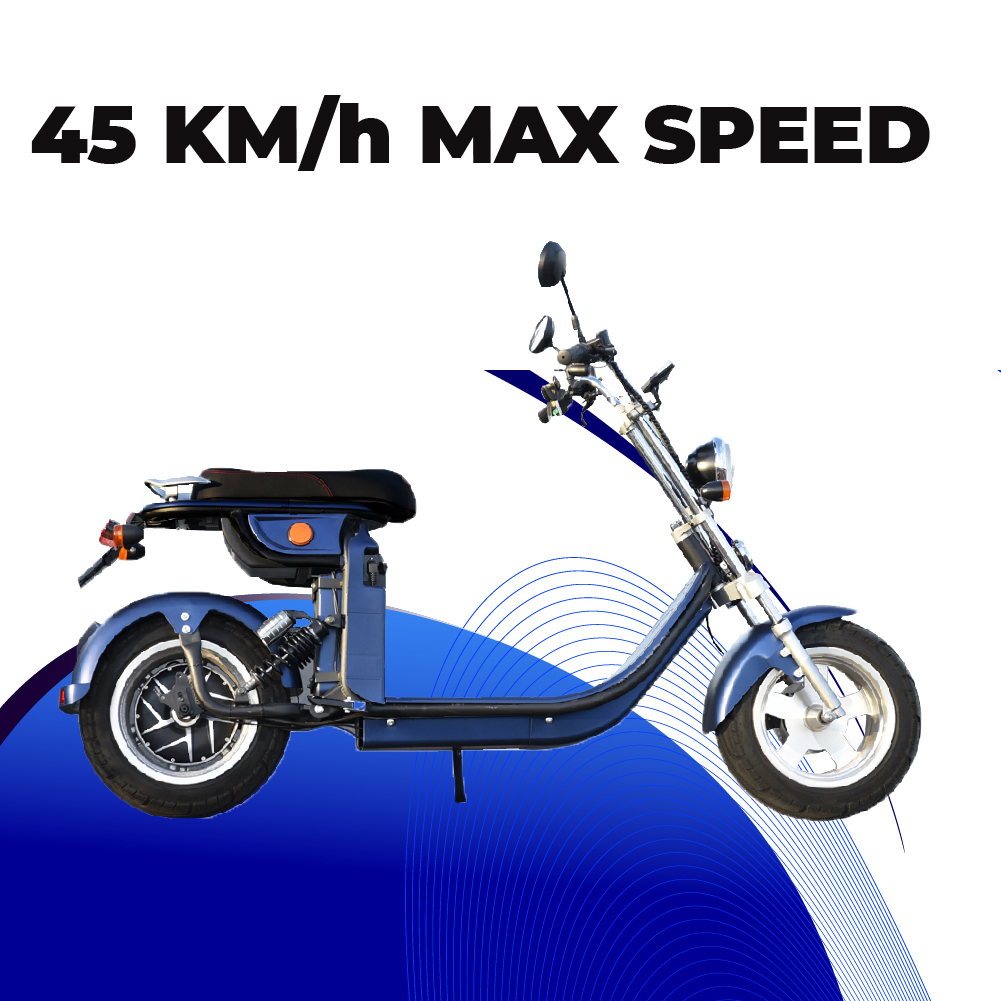 - 60 V and 40 Ah lithium battery with high autonomy.
- Approved lighting system. Short and long headlights, direction indicators, side lights, license plate lights.
- Approved odometer.
- rearview mirror.
- The frame number is engraved on the chassis.
- Switch on the side support ("stand")
- Steering wheel lock with key.
- Disc brakes front and rear.
- The maximum speed of an approved moped for each type is 45 km / h.
WARNING:
Read the entire user manual, safety, maintenance, inspection, and battery information before use, and retain the manual supplied with the product for future reference. Please follow the traffic rules.
Specifications:
- Model: ES8008
- Motor: 4000 W
- Battery: 60 V 40 Ah
- Wing color: black.
- Maximum speed: 45 km / h
- Maximum speed due to the constructive limiter: up to 70 km / h
- Autonomy on one charge: 80 km
* All of our Citycoco batteries can be charged on a motorcycle or removed and charged separately.
Maximum load: 180kg

Maximum speed: 45 km / h
Dimensions: 2150x380x1160 mm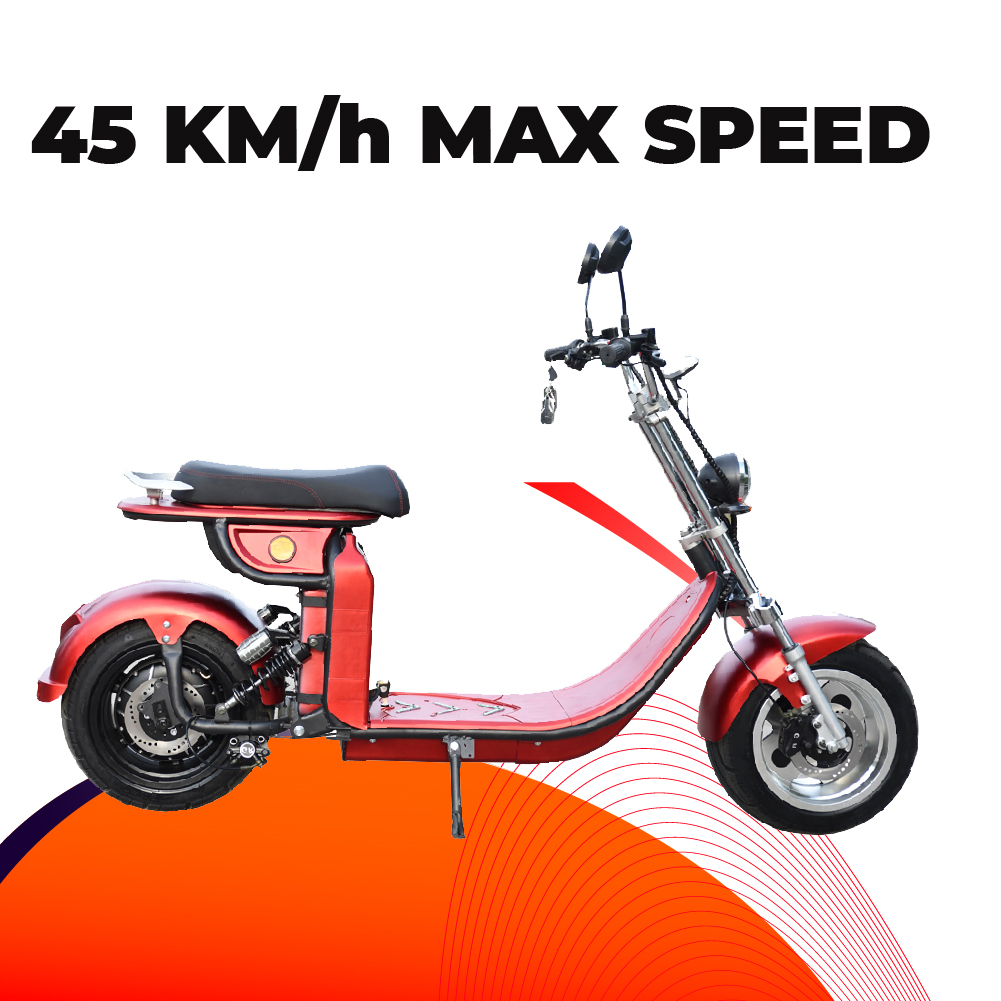 Functions:
- front shock absorber
- Horn
- Double pneumatic shock absorber at the rear
- Disc brakes front / rear
- Front light (short and long) / rear position and brake light.
- Front and rear direction indicators
- Dual digital display (odometer + battery / voltage level)
- 2 start buttons
- Maximum load: 180 kg
- Scooter net weight: 84 kg
- Dimensions: 2150x380x1160 mm
- Charging time: 6-8 hours
- Loan authorization: AM, A1, A2, A, B
Guarantee:
2 years for all product components and parts including battery (see Terms here). We have all kinds of parts such as batteries, motors, shrouds, headlights and pilots, brakes, handles, electronics.