Product Code:
7438644885852
Availability: Out Of Stock

sie können rund um die Uhr WhatsApp schreiben
Product Description
The new YUME M11 is an updated version of the off-road electric scooter. It is the new strength in our lineup with more power, superior control, dominant personality and some of the best performance. It adapts to almost all road conditions and terrain, and guess what, it also has an incredible floating feel.

The M11 is much more than just another high speed scooter, it is an electric scooter that offers high performance and speed for all riders, including heavy riders. Now you need to know that there are two versions of the M11.
High performance battery and long battery life
The base M11 features 60V, 35Ah with a range of 60 miles, while the older version of the M11H has a capacity of 72V, 45Ah with a range of 78 miles, an amazing capacity provided by the scooter's high-performance lithium battery. The M11 battery is also equipped with various protection zones against over-current, short-circuit, temperature anomalies, over-reception, deep discharge, and undervoltage automatic shutdown. Of course, it also offers other security features. In addition to the custom package, the M11 supports 5A fast charging and dual charging. The scooter's charging capacity is also optimized for safety.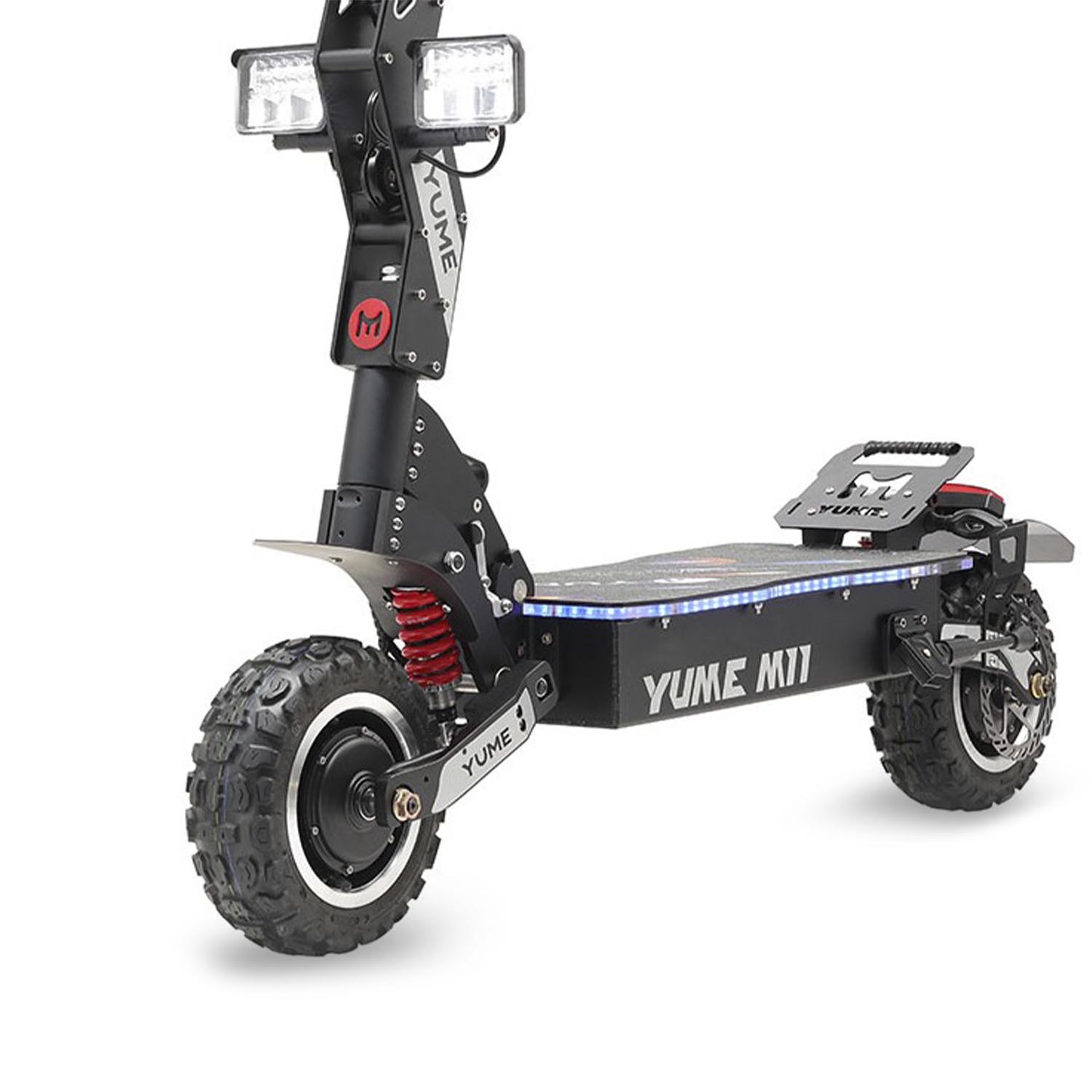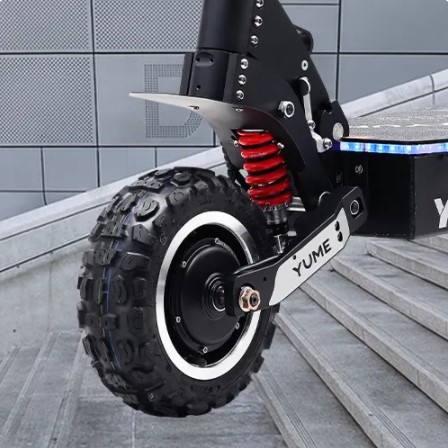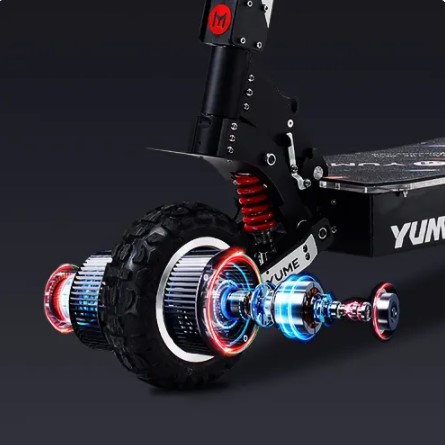 Great driving experience
The M11 features a super-efficient shock absorber, an optimized suspension tuning mechanism and an improved suspension design. In addition, the M11 is equipped with two specially designed 11-inch off-road tires, both of which are very wide for improved grip and control, as well as more shock absorption, giving the YUME M11 an incredibly smooth yet comfortable ride when driving through the city. even over bumps, you will have an unforgettable driving experience as you pass by.
Smart display and simple controls
YUME M11 smart screen shows gear, speed and battery level. With 3 speed settings, 2 power modes and dual motor control, you can easily control its power and speed. So say hello to top-notch handling.
Matrix lighting system
The M11 boasts an excellent lighting system. It features two square matrix headlights and dozens of LED light sources - essentially a groundbreaking night scooter that delivers clearer night vision. A complete set of lighting for safe driving and a clearer view includes brake lights, turn signals, horns and customizable color lighting effects (7 primary colors and hundreds of lighting modes). Thanks to this superb lighting system, you will not be intimidated while driving, even on dark and long nights.
M11 color
Lights: M11H Deck, Color Lights: Deck + Stem + Rear Footrest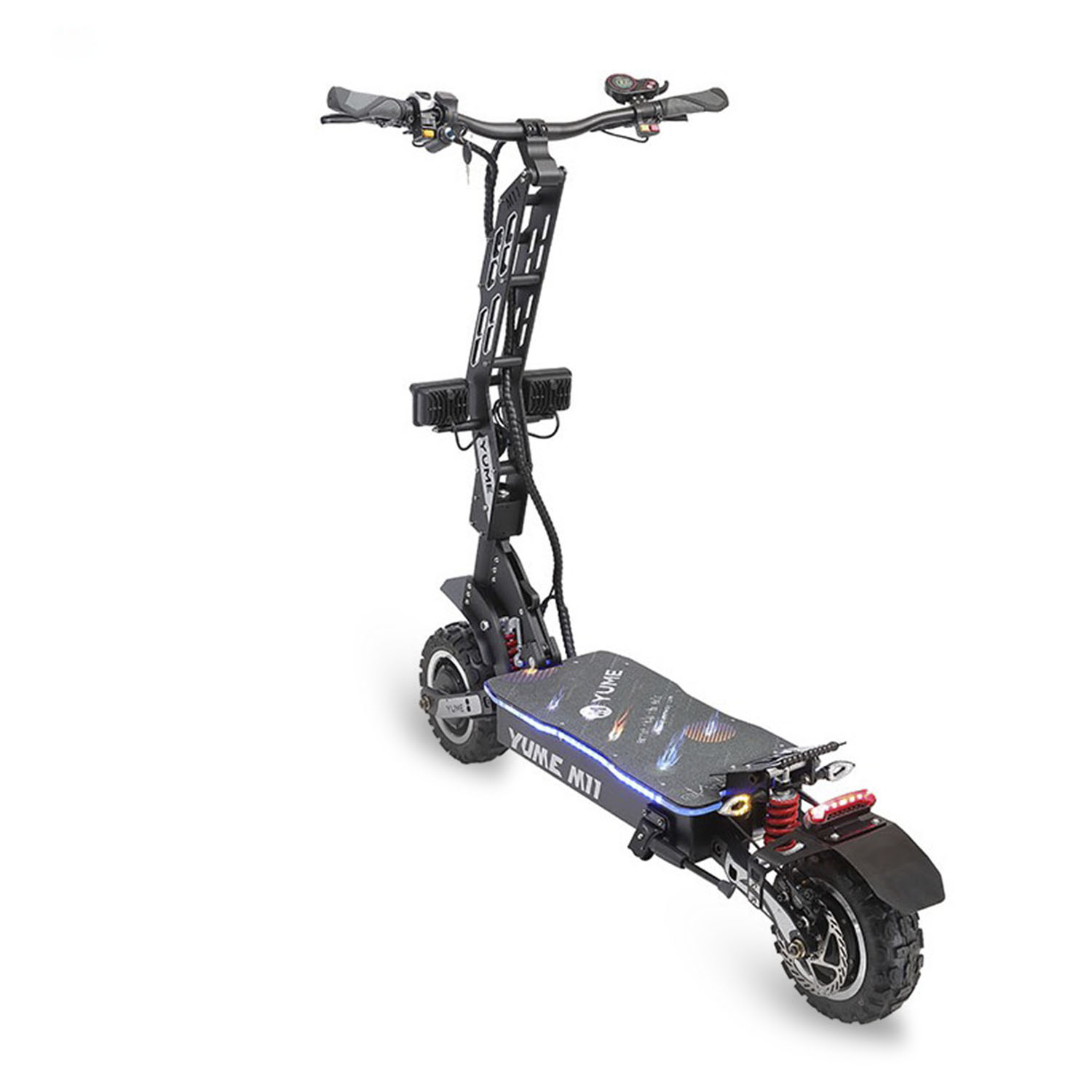 Strong, compact, stable and durable
The M11 adopts a thicker aerodynamic aluminum alloy frame, which generally prevents deformation and corrosion, while providing all-round support strength for all parts of the scooter and greatly improves the scooter's safety factor. The scooter also has a 720mm extended handle that can be easily adjusted in height and tilt, making it easy and comfortable to grasp while driving.
Functions
Maximum speed: 80-90 km / h 50 mph
Battery: 60V 35AH Panasonic 21700
Maximum Range: 95 km / 60 miles Test
Condition: load 60 kg, ambient temperature 25 degrees For a flat road 30 km / h at a constant speed
Motor size: 3000W double motor with hall sensor
Controller: 12 MOS / 35A
Maximum current / sinusoidal regulator Display functions: LH-100 Smart Display with adjustable driving mode. Built-in overheating protection IP65
Acrylic board: only acrylic deck lights
Stand: normal
Slope: 35 ° (depending on driver weight, incline, charge level, etc.)
Tires: 11-inch off-road tires
Brake: hydraulic disc brakes front and rear
Suspension: Front and rear KS spring suspension
Headlights: 2 large square LED front lights + brake light + turn signal + horn
IP rating: IP 54 for the whole scooter
Rudder to deck: 960
Deck cover: 630 * 300
Weight: 110 lbs / 50 kg (add 2.5 kg seat)
Package weight: 56.4kg (add seat 2.5kg)
Folded size: 1400 * 730 * 560
Overall size: 1400 * 300 * 1250mm
Packing size L * W * H: 1450 * 335 * 585
Charger: 6-8 hours
Maximum load: 330 lbs / 150 kg
Maximum speed: 80-90KM/H; Battery: 60V 35AH Panasonic 21700
Headlights: 2 large square LED front lights + brake light + turn signals + horn
Weight: 110 lbs / 50 kg (add 2.5 kg seat)
Overall size: 1400 * 300 * 1250mm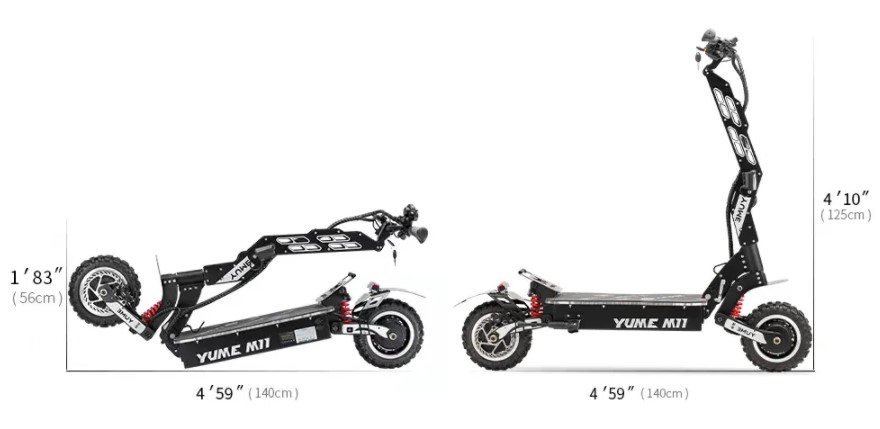 Item specifics
90KM/H

90KM/H

3000W

3000W

35AH

35AH