FAT BIKES: RIDE EXTREME ROADS WITH CHALLENGING TERRAIN
Created Date: 24 May
0 Comments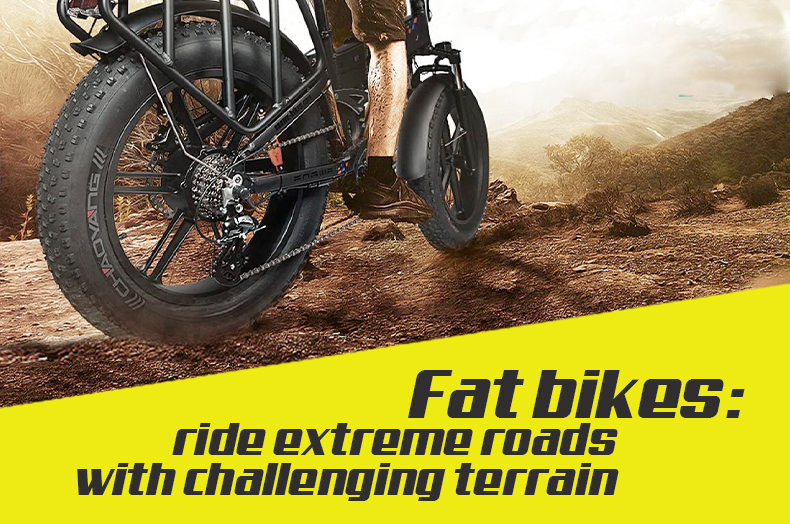 The name of the fat bikes speaks for itself. These bikes have exceptionally thick wheels that help you navigate non-standard extreme trails with snow, sand or mud. The birthplace of Fatbike is a region of Alaska, where difficult weather conditions forced cyclists to adapt to movement on difficult roads. On bicycles, it was often necessary to overcome snow drifts, streams of water, that is, to operate the bike in unusual conditions for classic riding.
Buy a fat bike
Technical features of fat bikes
As a result of its development, the fat bike received the widest possible tires. Their dimensions are in the order of 3.5 - 4.7 inches. Another technical feature of these bicycles for extreme roads is the lack of shock absorbers. They are simply not needed, since wide tires are able to independently cope with all the bumps and holes on the road.
Buying a fat bike is mainly decided by fans of fun riding. Such models are especially popular among residents of Germany regions with severe weather conditions. In this case, buying a fat bike bike is appropriate not only for outdoor activities and extreme sports, but also for everyday needs. The price of a fat bike bicycle depends on the quality of the components of different models and is in the middle price range.
Buy a fat bike in Germany
Buy quality fat bike Forward at manufacturer's price
The branded online store Madatshop offers to buy a fat bike mountain bike inexpensively in combination with excellent quality. The official website of Madatshop sales is an online store of fat bikes and other models of bicycles, which come directly from a well-known manufacturer, with a quality guarantee for each bike.
If your life and adventures suggest that it's high time to buy a fat bike, follow your desires. The most convenient way to buy a fat bike in Germany is through the official online store Madatshop, where a large selection of high-quality models is available. Store managers are always ready to give detailed advice and help with choosing the optimal model. Placing an order with delivery will take a minimum of time. Soon you will be able to test your new fat bike on the most incredible tracks! This proves once again that the right bikes can do it all!
5 advantages of electric scooters and electric motorcycles:
1. Does not consume gasoline
2. No need to change oil
3. Good acceleration dynamics
4. The pleasure of riding a bike
5. Silent