HOW TO CHOOSE AN ELECTRIC MOTORCYCLE?
Created Date: 30 Nov
0 Comments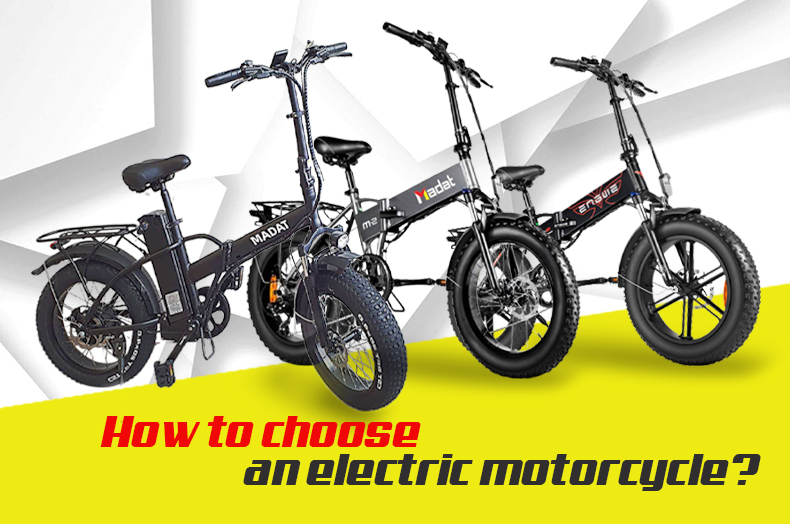 An electric motorcycle is a modern alternative to gasoline units that can completely replace existing vehicles using traditional fuel. Every year, new models of this electric vehicle appear on the market, helping to feel the "romance" of the road. In our article - how to choose an electric motorcycle so that you like it with its external and internal technical characteristics.
An electric motorcycle is not just a toy for adults, it is an environmentally friendly, fast, economical, almost silent analogue of a gasoline unit. Today there are many models on the market of modern technology. They are diverse in appearance, performance parameters, and cost. How to choose an electric motorcycle so that it becomes the embodiment of your dreams, we will tell you in this article.
How to choose an electric motorcycle: the main purchase criteria
A motobike is a compact, maneuverable, convenient transport in traffic jams, it is capable of "infiltrating" where only an electric scooter will pass. Electric motorcycles can "boast" of solid technical parameters, which are practically not inferior to devices with internal combustion engines, or even surpass them. When buying an electric motorcycle, pay attention to the following criteria:
Electric motorcycleMotor power.
Indicated in watts (W) or kilowatts (kW). For convenience, it can be correlated with horsepower (hp), in which the power of the internal combustion engine is estimated: 1 hp. = 735 W. Power of 500-3000 W allows you to accelerate to 25-45 km / h. It is convenient to ride on such a bike in urban conditions, in traffic jams. Devices from 4 kW provide acceleration over 120 km / h. Suitable for those who like to ride "with a breeze" on an empty track. It is important to remember that at high speeds the battery power is consumed faster and the range on a single charge becomes shorter.
Power supply type. Lead-acid devices are characterized by low cost, resistance to cold. However, they are quite heavy, and consume the charge quickly. Lithium-ion batteries are the most popular: they most often "accompany" electric motorcycles. They have the optimal ratio of weight, capacity and cost, but they are "capricious" with temperature fluctuations, do not tolerate overheating. Lithium-iron-phosphate battery is frost-resistant, quickly charges, does not "age" for a long time. Cons: high cost and small capacity.
Battery capacity. Capacity is measured in ampere-hours and affects the mileage: the larger it is, the longer the electric motor works. Using this value, you can calculate the approximate mileage using the formula: amperes / hours x volts: 10. With a large capacity, the motorcycle takes longer to charge to 100%. But some power sources allow "emergency" charging: replenishment of energy in a short time - 40% in 1-2 hours. Although in normal mode, it takes 4-8 hours to fully charge. It is convenient to use emergency charging when you need to go urgently and there is not enough charge.
Maximum lifting capacity. This parameter is especially important if two people will ride a motorcycle or if things will be transported on it. Indicators for adult models range between 90 and 220 kg. Try not to overload the vehicle - this will quickly drain the battery and wear out the structure.
Maximum speed. Classic units accelerate to 45 km / h, which is enough for city driving. At the same time, a low top speed most often indicates a high torque, which helps to overcome climbs. For anyone planning to use an electric motorcycle for high-speed or off-road driving, we recommend considering the faster models that reach speeds of up to 160 km / h in just 5-10 seconds.
Run range. Most models are capable of covering 80 km on one full charge of the battery. This indicator relates to the following operating conditions: optimal speed, light load, no sudden jerks and braking, flat surface without ups and downs. The worse the road surface, the greater the load on the motorcycle, the shorter the distance it travels. Also keep in mind that the actual driving range is always less than the declared one.
Wheel diameter and widthElectric motorcycle wheel diameter and width. The larger the diameter, the easier it is to overcome irregularities and obstacles. Also with large wheels - 17-23 inches - the speed is maintained longer when coasting. But they have several drawbacks: they accelerate slowly, reduce the maximum speed, and make the structure heavier. The small diameter - 12-16 inches - allows you to quickly accelerate, provides good maneuverability, but it rides without problems only on a flat surface. Stability and permeability depend on the width. Wide wheels with "aggressive" tread confidently overcome sand, snow, gravel.
Construction material. Ultra-strong aluminum alloys are used to make compact, teenage models. The steel frame is a must for older, solid motorcycles. But most often steel, aluminum and plastic are combined in the case.
Clearance. Ground clearance is the distance from the ground to the lowest point of the vehicle body. The higher the clearance, the higher the obstacles that the motorbike will overcome and the bottom will not touch the ground. But low ground clearance lowers the center of gravity and increases overall stability. When buying, take into account the operating conditions: the smoother the roads on which you will drive, the less ground clearance you need.
Weight. The total mass of a fully loaded vehicle without a rider and additional cargo. Lighter models are more powerful. But too little weight reduces the stability of the vehicle on the road and the overall strength of the hull. When choosing this criterion, take into account the characteristics of the driver. For teenagers or girls, lightweight devices are suitable.
Optional equipment. Useful equipment includes:
Lighting devices: headlights and dimensions. Provide safety in poor visibility conditions: dark time, fog, rain. A vehicle on the road will also be allocated. A device with a high-quality bright lighting system should be a priority.
Turns. In the standard version, the direction indicators are yellow or orange. Installed on the sides. Switched on with a button and a toggle switch. Traffic rules dictate: turns and lane changes on the road must be indicated. Therefore, if there are no "turn signals", then you need to give signals with your hand, and this is inconvenient and unsafe.
Sound signal, or horn. Necessary to prevent accidents. And also warns other road users about the approach of motor vehicles.
Anti-theft security system. "Anti-theft" is different for different vehicles. Sometimes it can be in the form of a notification about attempts to move the vehicle from its place, which is fed to a key fob or a mobile phone. Sometimes - in the form of a physical obstacle to theft: steering lock or brakes. Please note that starting with the ignition key cannot be considered a complete anti-theft system.
The trunk. Capacity for transporting small cargo. Installed at the rear.
Parking step. The stand can be central or side. Folds out when parked, allowing the imposing structure to stand upright.
Unit type by specialization. Motorcycles with an electric motor, like gasoline bikes, come in several types: classic, enduro and cross-country. Classic, road models have average characteristics for all of the above points. They are used for comfortable movement from point A to point B around the city and outside the city. Enduros are designed to overcome long distances and difficult obstacles. They have the following features: increased structural stability, frame and suspension of moderate rigidity, excellent shock absorption, strong shock-resistant wheels, wide steering wheel, high-sensitivity brakes. A cross-country motorcycle is designed for fast off-road driving. It is characterized by the following qualities: minimal weight and cladding, large diameter wheels, high power, improved running characteristics, reduced steering, simple but effective brakes.
There are several other secondary factors that can also affect the choice of an electric motorcycle. First: additional functionality in the form of a built-in audio system, Bluetooth. Second: a folding design that allows you to reduce the unit, make it easy to store and transport. Third: appearance and brand. Focus on your own taste, manufacturer's reputation and customer reviews about the product.
Motorcycles with an electric motor have a great future, despite the rather high cost of the included batteries. Keep budget in mind, explore the performance characteristics of electric motorcycles, and enjoy modern technology today.