Product Code:
4260767565006

sie können rund um die Uhr WhatsApp schreiben
Product Description
Elektrofrosch MAX Pickup truck 45 km/h 2500W

(Double battery optional)
start immediately without any problems: no registration required & without TÜV – drive off immediately after delivery
Hardly any costs: no taxes, less than €2 electricity costs per 100 km, less than €10 insurance per month
self-selectable battery capacity: individually adjustable range
modern and clean technology: reliable and sustainable for drivers and the environment
Mobile, inexpensive and sustainable with your MAX
Imagine waking up in the morning and something is different. Not just different, but much better. Imagine you can use a new technology to make the transport of goods sustainable and environmentally friendly.
The innovative transport solution from Elektrofrosch makes this possible! At the same time, you even reduce your energy costs while maintaining the same level of efficiency as before.
You sit comfortably while your load of up to 350 kg is safely stowed in the loading cabin. The vehicle is approved for 2 people, experience has shown that driving with one person is more comfortable. At a deliberate speed of 45 km/h, you arrive relaxed at your destination. And all for such a low price.
No annoying smell of petrol, no annoying smell of exhaust gases - just clean, environmentally friendly energy. The electric frog MAX transports you easily and reliably up to 120 kilometers. With a full battery, that's one trip from Berlin to Potsdam and back again!
The best part? You'll never have unforeseen, high fuel bills again. Thanks to modern and clean technology, you pay no more than €2 per 100 kilometers.
You also protect our precious planet by reducing CO2 emissions.
Order your new electric frog Max now and make a conscious decision in favor of sustainable mobility at an affordable price.
Often bought together:
With our mobile solar charging station, you can charge your electric frog MAX with self-generated electricity anytime and anywhere. This even makes free electromobility and 100% CO2-neutral mobility possible (apart from the one-time purchase).
Additional Information:
Tempo*: 40 km/h (registered) - real approx. 45 km/h
engine power: 2.5kW
Range :120 km (double battery pack), 60 km
dimensions outside :2,700 x 1,168 x 1,870 mm (L x W x H)
Internal dimensions of the charging box :1,070mm x 900mm x 1,170mm (L x W x H)
center distance :1,775mm
track width :875mm (front), 950mm (rear)
wheel size: 100/80-12 (front), 4.00-12 (rear)
brakes :4 x disc brake
battery
Operating voltage: 72V (83V max.)
Battery voltage 12V
1x battery pack: 58Ah
2x Acussatz: 2x58Ah
(Double battery optional)
Power consumption: 93 Wh/km
Weight :310kg
payload :350kg (single battery pack), 270kg (double battery pack)
gradeability :25 percent
charging:
230V socket
Type 2 charging station (with separately available adapter)
Solar system (optional):
150W±3% Maximum Power (Pmax), 18.00V Maximum Voltage (Vmp), 8.33A Maximum Current (Imp), 22.50V Open-Circuit Voltage (Voc), 8.58A Short-Circuit Current (Isc), DC1000V Maximum System Voltage, 15A Maximum Series Fusion, -45 to 80℃ Nominal Operating Cell Temp.(NOCT), 10.2 kg weight, 9855 x 9855 x 300 mm dimensions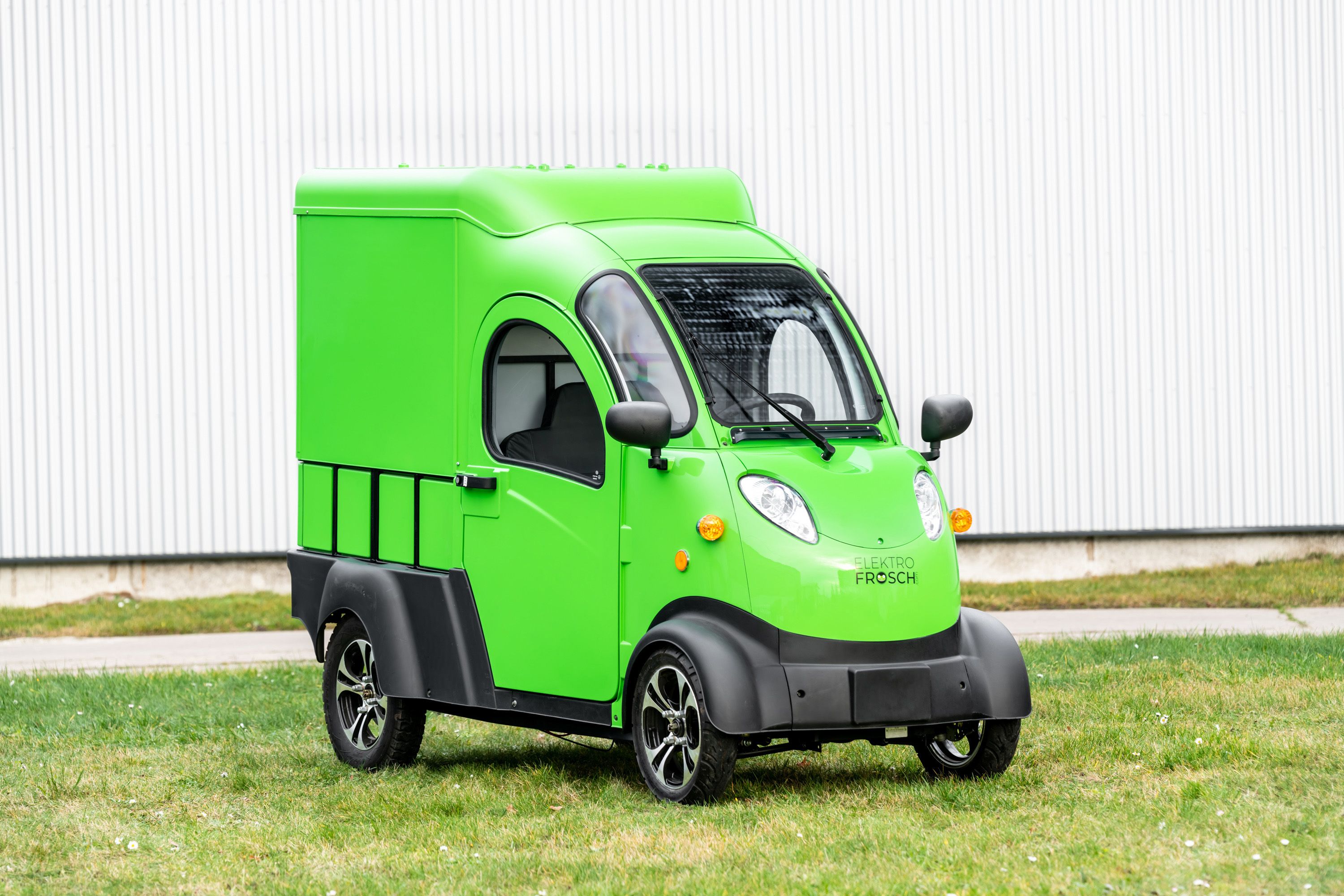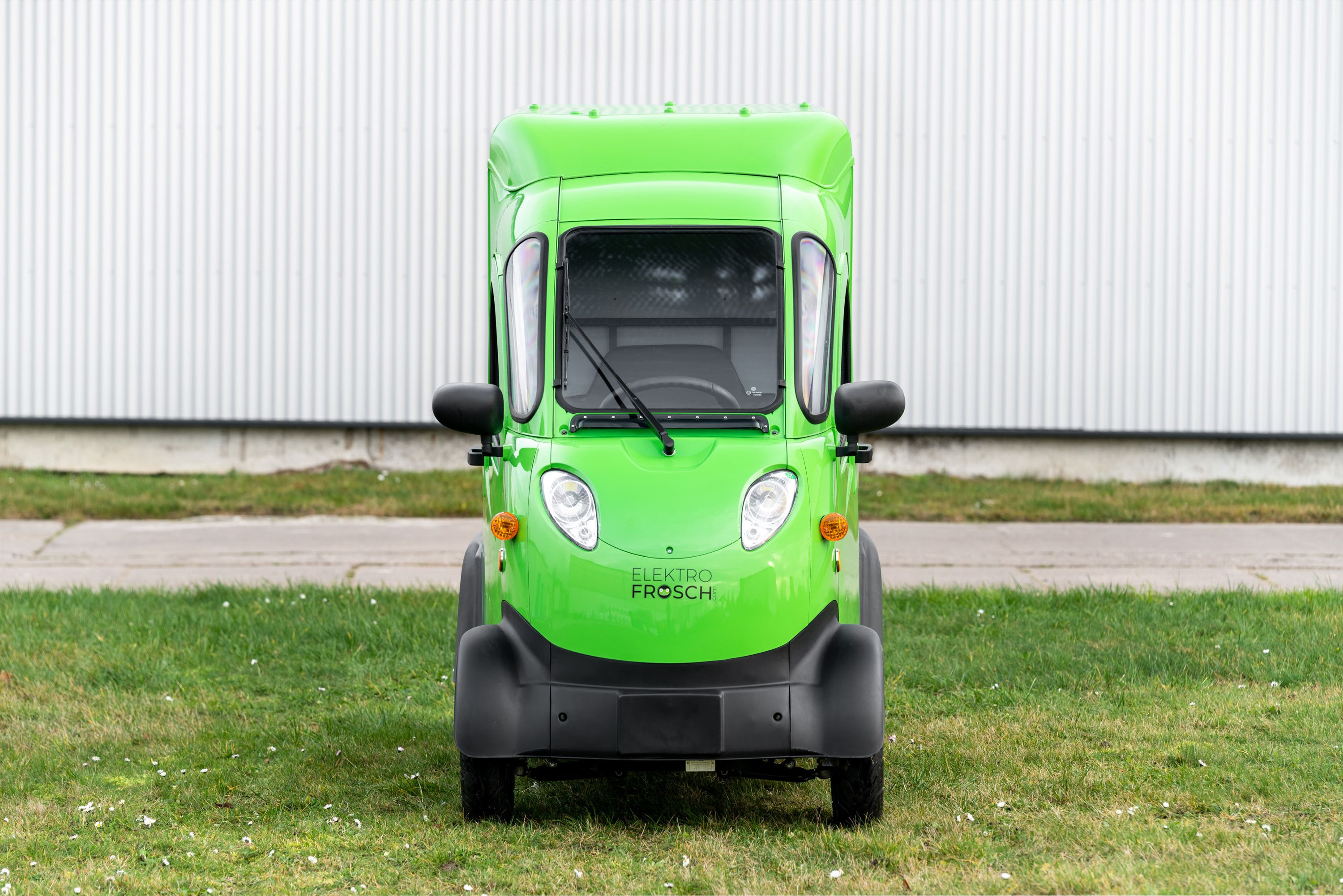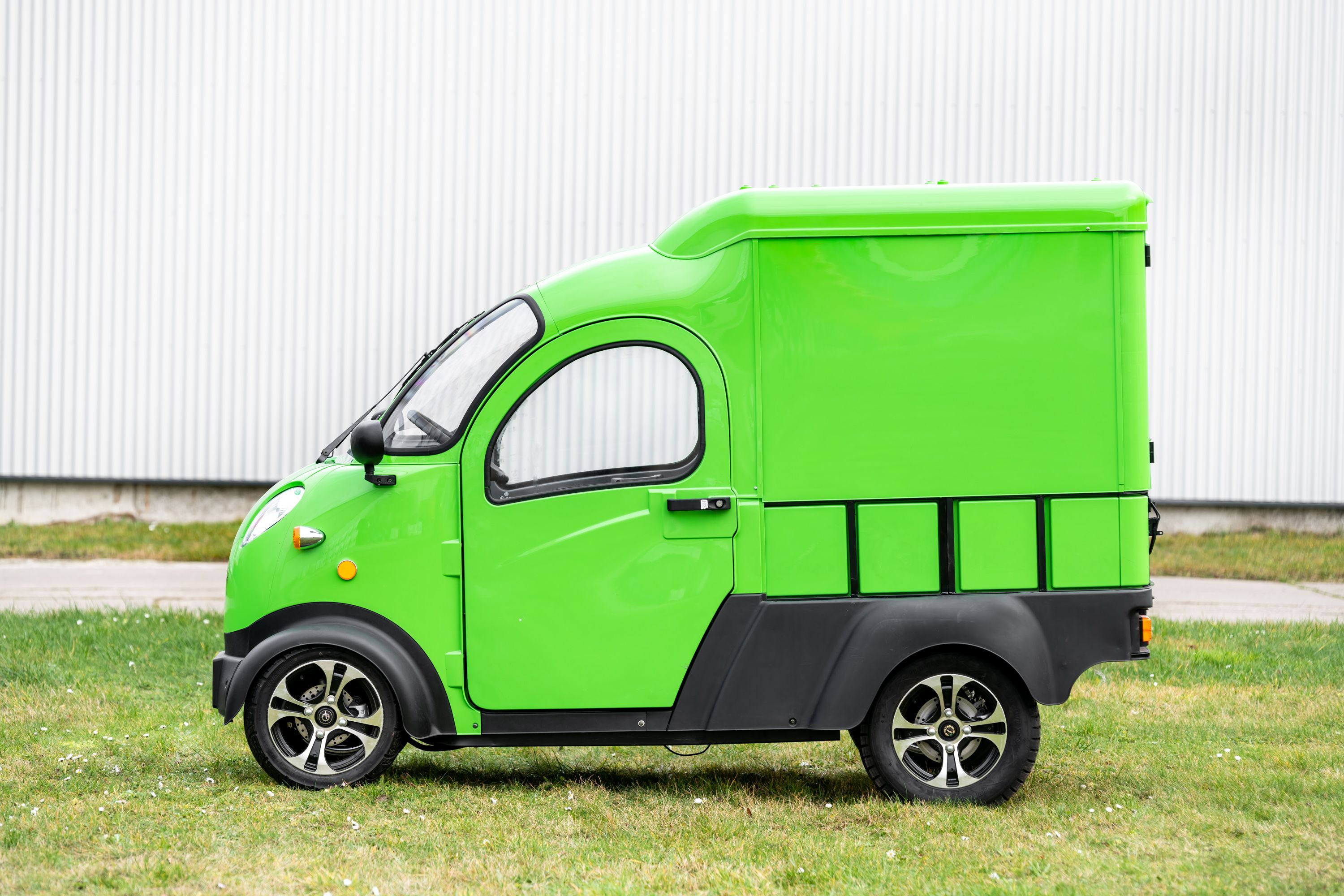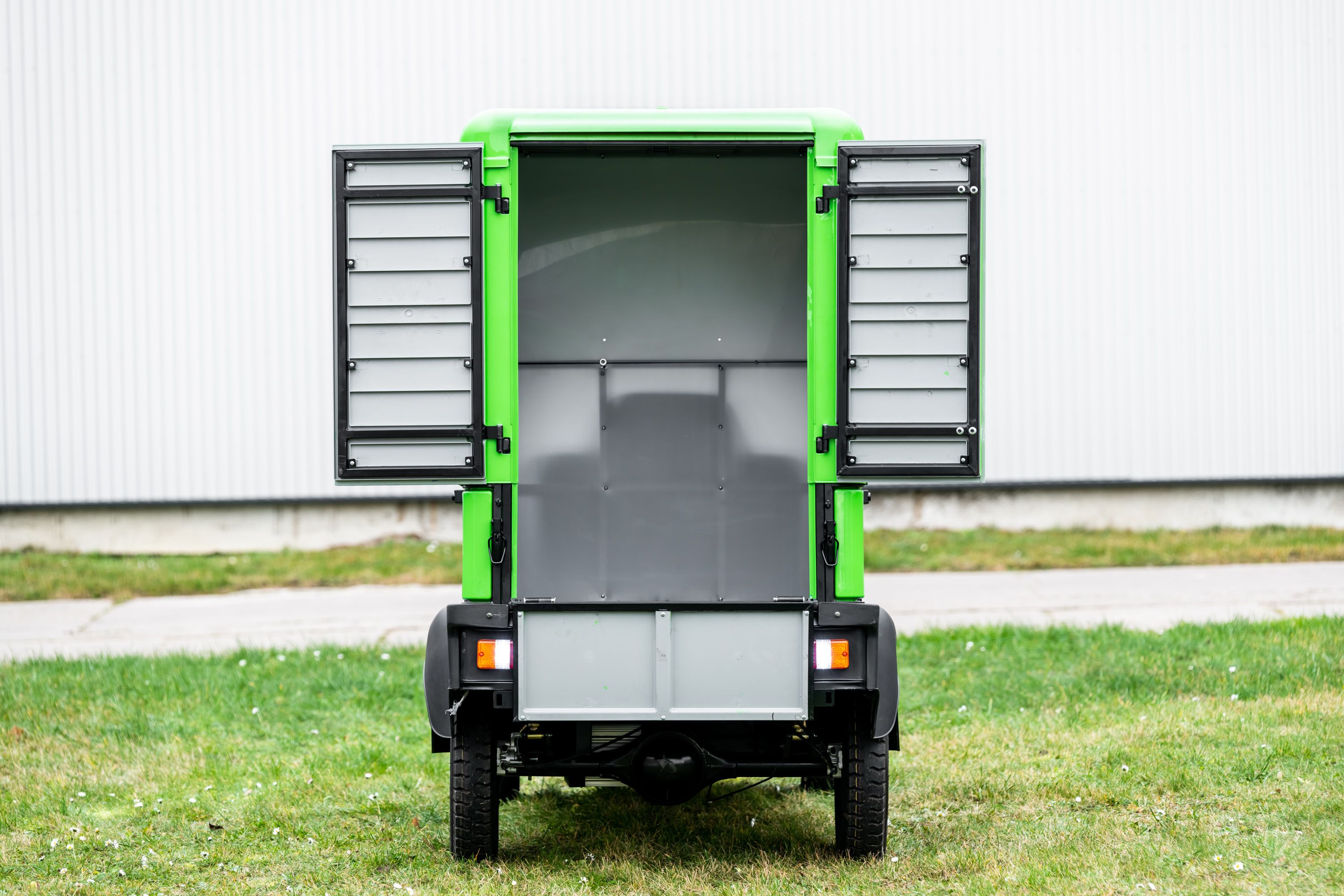 Fast, strong and cheap
Experience our model Elektrofrosch MAX from all sides and at full speed. This incredibly versatile electric van is valued for transport, delivery services or other services in the city and in the country.
An electric panel van (L6E), with a closed cabin and a large bench seat. A closed loading cabin protects the valuable cargo. Charge: 350kg, speed: approx. 45km/h, range: up to 120 km. Practical and particularly cheap. The electric frog MAX offers great value for money.
Due to its compact design, the electric frog MAX can also get through narrow spaces. The loading area is closed, offers plenty of space and your load is well protected.
Please note our information on performance values and an example COC:
We would like to point out once again that all vehicles sold in Germany by Elektrofrosch Berlin have a valid EU COC certificate.
Item specifics
Range

120 km (double battery pack), 60 km

Speed

40 km/h (registered) - real approx. 45 km/h

Motor Power

2.5kW